Things You'll Need
Digital thermostat, rated for two heat and two cool stages

Voltage detector

Screwdriver

Pencil

Piece of twine

Power drill with assorted bits

Dry wall anchors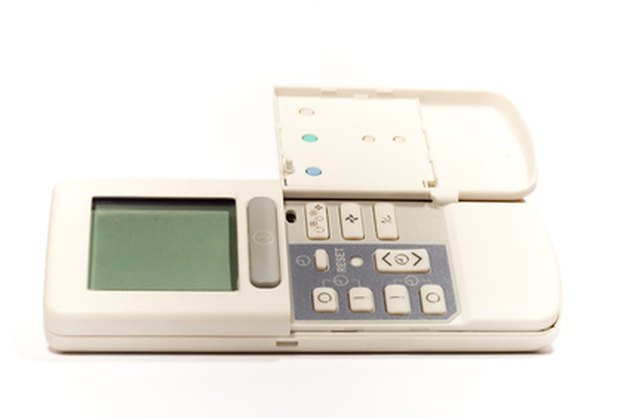 If you are replacing a 6-wire thermostat, you probably have a two-stage heating or cooling system in your home. A two-stage system has a high and low setting designed to maintain a consistent temperature and save energy. The first five wires on your thermostat are common to most systems, while the sixth wire will be connected to the second-stage function of either your furnace or air conditioning compressor. Install a new digital thermostat, rated for a 6-wire, second-stage system, and maximize the efficiency of your heating or cooling system.
Step 1
Determine whether you have a two-stage heating or cooling system.
Step 2
Turn off the power to the thermostat at the circuit breaker or fuse box. Check that the power is off with a voltage detector.
Step 3
Remove the old thermostat cover, and remove the mount screws that secure its base to the wall.
Step 4
Pull the old thermostat out from the wall and detach the wires, making note of which terminal letter corresponds with each wire. Bunch the wires together and tie the bunch to a pencil with a piece of twine. The pencil will keep the wires from sliding back inside the wall.
Step 5
Attach the new digital thermostat to the wall. Drill holes for the base and secure it with dry wall anchors and the included screws. Make sure the thermostat fits the base properly before attaching the wires.
Step 6
Attach each wire to the corresponding terminal on the back of the digital thermostat.
Step 7
Fit the thermostat in the base. Turn the power back on at the circuit breaker or fuse box. Program the new thermostat according to the owner's manual.
Tip
Typically, the "R" terminal connects the power, the "G" terminal powers the fan, the "Y" terminal powers the air conditioning compressor, the "W" terminal powers the furnace and the "C" terminal stands for "Common" and completes the circuit.
Depending on your system, the thermostat will also need to be connected to the second-stage wire of the heating or air conditioning. The second-stage heating terminal is usually labeled "W2," while the cooling terminal is labeled "Y2."
---
Adam Quinn has been writing since 2008. His articles have appeared in the "Journal of Humanistic Psychology." Quinn holds a Master of Social Work from the University of Washington in Seattle, where his focus of study was counseling combat veterans with post-traumatic stress disorder.