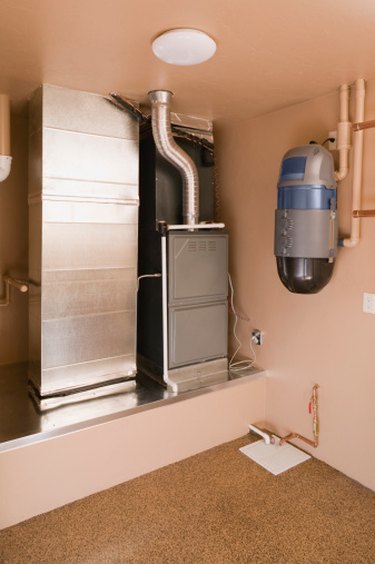 Carrier furnaces are energy efficient and are available in various sizes and formats. Most of the furnaces have a limited warranty, sealed combustion systems, quiet operation, pilot-free ignition systems and an electronic display panel. While the furnace may be expected to work well under typical circumstances and with regular care and maintenance, issues may occasionally arise. If this happens, an error code may appear on the display panel. Troubleshooting these codes can help you understand the necessary action needed.
Step 1
Check for a leaky or stuck gas valve if error "22" appears. Wipe the valve with a clean cloth if stuck and open fully. Close if there is a smell of gas, indicating a leak, and turn off the furnace and leave the house. Contact your gas company or fire station if this occurs.
Step 2
Examine the pressure switch on the control panel if error code "23" or "33" appears. Turn off and unplug the furnace. Clean the pressure switch if it is stuck closed and check the vents for possible obstructions. Reduce drafts in the area and examine the pressure tubing. Clear any obstructions.
Step 3
Clean the filter if error code "33" appears and check to make sure that the furnace vents are not obstructed. Note that if the error code persists, the blower wheel may be loose or the blower motor may be defective, requiring professional assistance.
Step 4
Ensure the gas valve is turned on if error code "34" appears, indicating an ignition failure. Contact Carrier for help if the gas valve is on but the error code persists. Potential causes may include oxide buildup, defective gas valve or ignition or low gas pressure.
Step 5
Turn off the furnace, wait a few minutes and restore power if error code "45" appears, which indicates a control circuitry lockout. Contact Carrier if the error code persists after power is restored.
Step 6
Contact Carrier if other error codes are displayed, as most other error codes require professional assistance.
---
Meredith Jameson writes early childhood parenting and family health articles for various online publications. She holds a Bachelor of Arts in history from San Francisco State University.