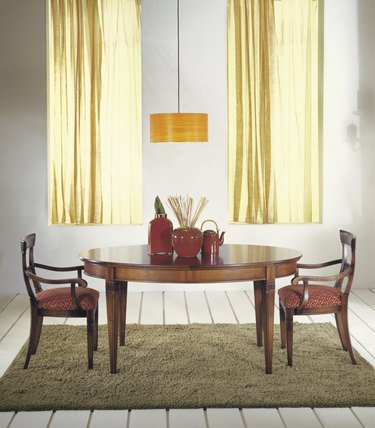 You may want to keep your living-room seating planted, but dining-room chairs need to slide. For an infirm or elderly person, an awkward chair is more than annoying, it may be impossible to move without help. On a rug or carpet, chair legs with glides that slide easily let you access or leave the table without a challenge.
Glide on Over
Turn chairs upside-down to mount a durable, smooth plastic or metal glide on the bottom of each leg. Chair glides come in a variety of standard sizes; measure the chair leg base for fit. If your chairs have rubber bumpers screwed into the legs, remove them and use the existing holes for the glides' screws. Bumpers protect hard-surface flooring and can catch on carpeting, especially if they're worn. If the legs don't have screw holes, drill starter holes to avoid splitting the wood with the screw or nail. Screw-in or nail-in glides last longer than self-sticking glides. If your chair legs aren't wood but metal, use stick-on glides and replace them as needed.
---

Lorna Hordos
Lorna Hordos is a home-flipping business owner and freelance writer. She writes friendly, conversational business, home and lifestyle articles for Bizfluent, azcentral, Daltile, Marazzi, Lowes, Philips Lighting, WordPress.com and numerous other publications.