Things You'll Need
Your choice of wood for the trim

Safety glasses

Table saw

Orbital sander

Stain

Sponge brush

Rag

Tape measure

Miter saw

Finish nailer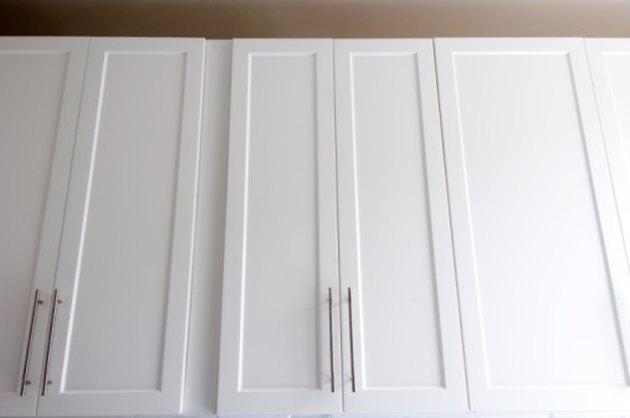 Custom trim is also known as shoe molding. Adding trim to cabinets will make any room look better and add value to the home. There are several different types of wood you can use to add trim to cabinets. These include cherry, pine, oak, maple and many others. Adding trim to cabinets can be a simple process with the right tools and the proper knowledge.
Step 1
Rip the wood. Ripping means you cut the width of the wood. For safety purposes, when using a table saw, use a push stick instead of your hand to push the wood through the blade of the saw. Use an orbital sander to sand the pieces you ripped. Sanding provides a nice and clean surface for the stain by removing the imperfections in the wood.
Step 2
Stain the sides of the wood that will be showing by using a sponge brush. Make sure you go with the grain of the wood. Let the stained wood sit for a few minutes and then wipe off the excess stain with a clean and dry rag. You can add another coat of stain if the color is not as dark as you want it. Make sure to let it set for a few minutes afterward and wipe off the excess stain.
Step 3
Measure the wood for the length of the trim once the stain is dry. Mark the measurements with a pencil. Cut the wood to make it into trim at a 45-degree angle. You will be using a miter saw to be cutting the wood for the trim. To make the corner trim, flip the piece over and cut it again.
Step 4
Dry fit the pieces of trim to make sure they fit and look good. Use the finish nailer to secure them to the cabinets.
---
Marissa Wilson has been writing articles for various websites since 2008. She attended Buckeye Local High School and plans to expand her education soon.