Kitchen appliance company Proctor Silex offers blenders, slow cookers, juicers and other counter-top accessories. In past years, the company's bread machines -- still available on secondhand markets -- have helped homemakers fill the air with the scent of fresh-baked bread. Each model of bread maker manufactured by Proctor Silex works a little differently, so consult your instruction manual before operation. Likewise, use may vary depending on the needs of the recipe.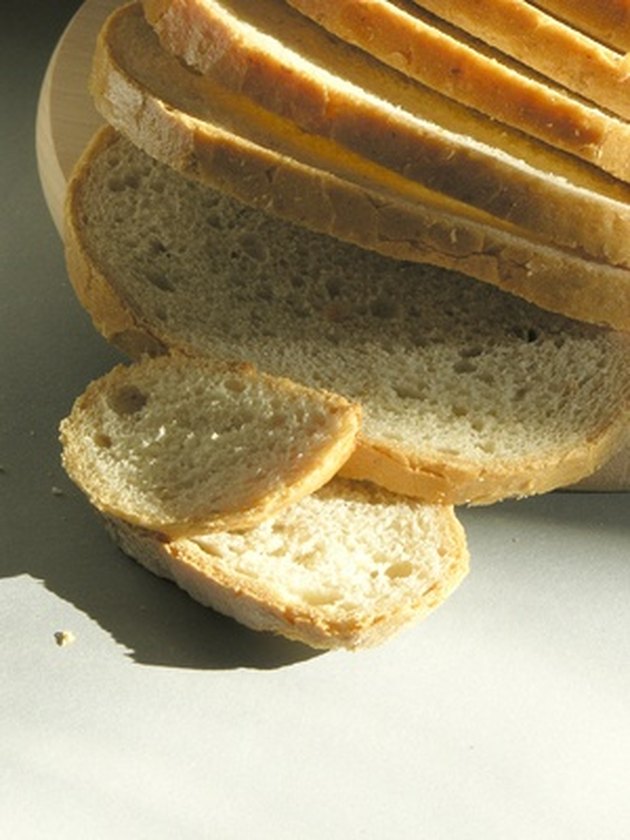 Step 1
Select the bread pan best suited for your recipe, if your Proctor Silex model comes with different sizes of bread pans. For instance, use a 10-cup-capacity pan to make a 1 1/2-lb. loaf of bread or a 12-cup pan to make a 2-lb. loaf of bread.
Step 2
Clip the kneading blade onto the peg in the bread pan.
Step 3
Add the liquid ingredients for your recipe -- such as water, eggs, milk, fat and honey -- to the bread pan.
Step 4
Add flour to the liquid ingredients, as per the amount called for by your recipe. Mix well.
Step 5
Add any dry ingredients to the pan. Dry ingredients include dry milk, salt, sugar and other seasonings. Mix the ingredients.
Step 6
Add yeast to the pan and mix.
Step 7
Insert the bread pan into your Proctor Silex bread machine, keeping the "Front" label of the pan facing out. Center the pan in the bread maker and push down on the pan to secure it in place.
Step 8
Select the cycle needed to prepare your recipe using the machine's "Setting" button.
Step 9
Select an appropriate crust setting -- such as light, medium or dark -- by pressing the "Crust" button, if your Proctor Silex model is equipped with this option.
Step 10
Press the "Start" button on the Proctor Silex bread machine.
Step 11
Lift the bread machine's lid to check on the dough's consistency after about 10 minutes. The dough should form a slightly tacky, smooth and round ball.
Step 12
Add 1 tsp. of water at a time, if the dough is too dry or 1 tsp. of flour at a time, if the dough is too wet. Do so until you reach the proper tacky consistency.
Step 14
Wait for the machine to sound its signal. Proctor Silex models with digital displays may read "End" at this point.
Step 15
Press and hold the "Stop" button. On some models, the signal will sound again to indicate a successful stop.
Step 16
Allow the bread to sit for about 10 minutes.
Step 17
Remove the bread pan from the bread machine. Wear oven mitts in case the pan is still hot.
Step 18
Invert the pan and shake it until the bread slides out.
Step 19
Place the loaf on a cooling rack. Allow the bread to cool to room temperature before slicing or serving.