Things You'll Need
Vinyl patch kit or vinyl material

Craft knife

Fine-grit sandpaper

Rubbing alcohol

Iron

Linen (optional)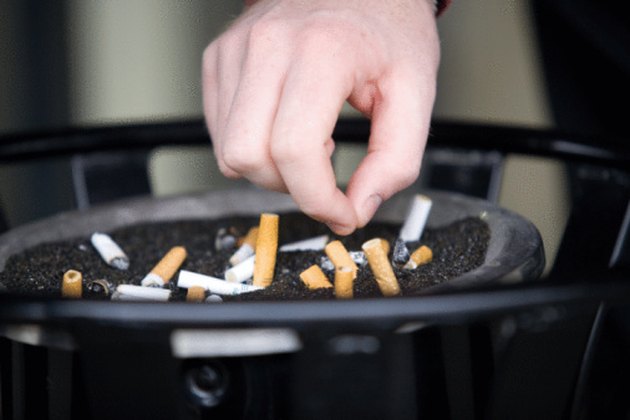 Lit cigarettes can leave unsightly marks and noticeable holes in material they encounter. While vinyl is a durable material, even it is susceptible to burn holes from lit cigarettes. When it comes to repairing vinyl holes, sometimes the most difficult thing is finding a patch material that matches the rest of the material. If the colors do not match well, the patch for the cigarette burn could be more noticeable than the hole itself.
Step 1
Purchase a vinyl patch kit in your desired shade. If you can't find a patch kit with an exact match, search for another piece of vinyl fabric or paint the material with fabric paint.
Step 2
Cut around the burn hole with a sharp craft knife. This will make the patch a little larger, but will ensure that the patch is more evenly shaped. Use this cutout as a pattern for your patch.
Step 3
Place your cut-out material on your new vinyl patch material. Cut your patch to size and position in place over the burn hole to check that it will fit.
Step 4
Sand the area with fine-grit paper. If you purchased a vinyl patch kit, this paper will likely be included. If not, this paper can be purchased from any home improvement supply store.
Step 5
Wipe the area with rubbing alcohol to clean the surface. Again, if you purchased a vinyl patch kit, an alcohol wipe should be included. Position the patch in place.
Step 6
Iron the patch into the hole to bind the fibers. Use a low heat setting on your iron designed for synthetic fibers. If your iron heats too hot and you are afraid of burning the material, place a piece of linen between the iron and the vinyl when pressing.
---
Liza Hollis has been writing for print and online publications since 2003. Her work has appeared on various digital properties, including USAToday.com. Hollis earned a degree in English Literature from the University of Florida.