X-90 siding is a Masonite product no longer manufactured by the company due to a class-action lawsuit filed in the 1990s regarding product deterioration in siding made between 1980 and 1998. The siding consists of pressed hardwood made from wood chips and fiber mixed with wax and resin, and by its nature is prone to a degree of swelling from water penetration. The X-90 siding product requires regular maintenance checks and painting to keep it in good condition and prevent associated problems from water damage. The painting process requires substrate preparation and the right type of primers and paints to effectively protect Masonite X-90 siding products.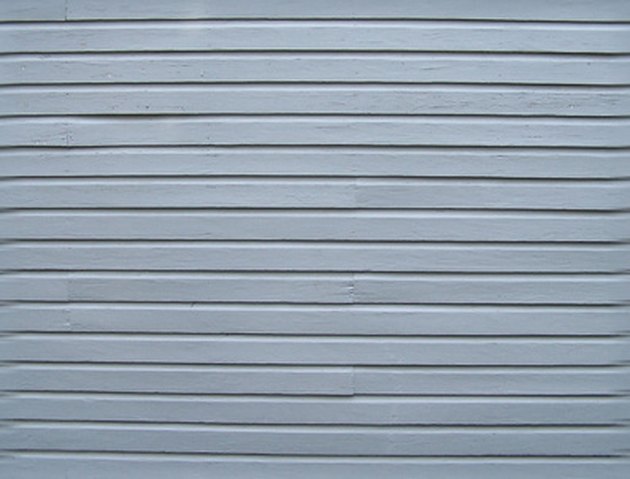 Step 1
Using a mild detergent mixed with water, scrub the siding in courses from the top of the wall and down. Use a scrubbing brush to apply the cleaning solution to the siding and clean off moss, dirt and loose paint.
Step 2
Using a 1500 psi jet wash, power wash the siding to rinse off the debris created by Step 1. Keep the nozzle six feet away from the siding as you rinse to avoid damaging the surface of the X-90 siding. Start rinsing from the top of the wall and along and down in courses. Wait 48 hours to allow the siding to dry out.
Step 3
Use a polyurethane sealant and a caulking gun and caulk sealant along the edges of exposed siding at the top and bottom and sides of the wall. Look for signs of swelling by checking to see if any nail heads indent into the siding. Apply spackle over any sunken nail heads. Allow at least 24 hours for the sealant and spackle to dry.
Step 4
Use a bonding primer and a paintbrush, and paint the X-90 siding working top down in courses. Brush bonding primer onto all exposed edges, and allow it to dry. Use an oil-based paint primer and paint over the bonding primer and allow the coat to dry.
Step 5
Use a 100-percent acrylic exterior paint in your choice of color, and use a stir stick to mix the paint to a uniform amalgamation. Paint the siding from the top of the siding installation in courses to the bottom of the wall. Use a paintbrush or a roller to apply the acrylic, and also paint along the primed edges of the X-90 siding.
Step 6
Allow the first coat of paint to dry according to the manufacturer's label instructions. Apply a final coat of acrylic paint over the siding to complete the project.