Things You'll Need
Soapy water

Fluoride toothpaste

Soft rag

Clean soft rag

Water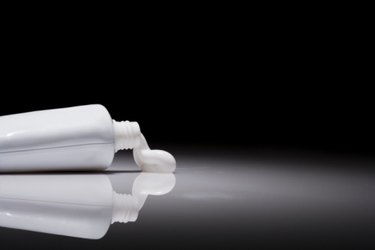 Fluoride toothpaste is often recommended by dentists to help clean and protect teeth. However, the mild abrasive formula of toothpaste can also be used as a polish for many plastic surfaces around the home. From appliance handles to car headlights and computer laptop cases, toothpaste can be used to successfully remove stubborn stains and ultraviolet light damage to plastic without harming the plastic. Toothpaste is also an option for those seeking a cleaner with low impact on the environment.
Step 1
Wipe any debris or residue from the surface of the plastic object to be cleaned. Use soap and water, if necessary, to clean the plastic.
Step 2
Place a 1- to 2-inch strip of fluoride toothpaste on a soft rag. Apply the toothpaste to the dirty or stained plastic with a small circular motion.
Step 3
Wipe the area polished with toothpaste with a clean, soft cloth. Apply a small amount of water to the polished area to remove the toothpaste.
Step 4
Apply more toothpaste to particularly stubborn stains, dirt or ultraviolet damage. Wipe the area with the clean, soft cloth.
Step 5
Buff the plastic cleaned with toothpaste with the soft cloth as desired to achieve a clean and shiny finish.
---
Keith Dooley has a degree in outdoor education and sports management. He has worked as an assistant athletic director, head coach and assistant coach in various sports including football, softball and golf. Dooley has worked for various websites in the past, contributing instructional articles on a wide variety of topics.