Things You'll Need
Slipcover

Iron

Pool noodle

Magazine

Rubber bands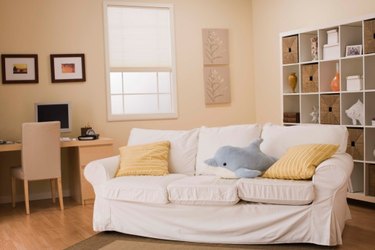 Slipcovers that are commercially made are designed to fit a variety of similarly styled sofas. This means that they don't fit any of the sofas exactly. For this reason, it is important to adjust the fit of your slipcover so that it will fit your sofa as closely as possible. Usually, the slipcover will have instructions and labels telling the home owner exactly how to place the slipcover over their sofa. These are helpful, but if you have laundered your slipcover or otherwise lost the tags, you may need a little help to position it correctly.
Step 1
Iron your slipcover to remove all wrinkles. This will also help you see the size and shape and it will help you understand how it is supposed to fit over your sofa.
Step 2
Drape the slipcover over the entire sofa. The bottom edge of the slipcover should be level with the floor and about 1-inch above the floor all around.
Step 3
Tuck the slipcover fabric between the seat cushions and the seat back. There may be considerable excess fabric. Tug the fabric down the arms until the front of the arms appears close to lining up. The back of the slipcover should reach the floor evenly and the front should reach the floor evenly.
Step 4
Press the fabric down between the cushion and the back. Create a neat fold where the back of the arm touches the seat back. Spread the fabric across the seat toward the arms from the center out. Center a pool noodle on the sofa and press it down between the seat cushion and seat back. Tuck the fabric along each arm and smooth the fabric across the seat.
Step 5
Roll up magazines and tie them with rubber bands. Tuck the rolled up magazine deep between and under the arm area of the cushion. The noodle and magazines will help lock the slipcover in position.
Tip
Fit your slipcover by creating straight folds and pleats at corners so that it looks like the slipcover was custom made for your sofa.
---
F.R.R. Mallory has been published since 1996, writing books, short stories, articles and essays. She has worked as an architect, restored cars, designed clothing, renovated homes and makes crafts. She is a graduate of the University of California at Berkeley with bachelor's degrees in psychology and English. Her fiction short story "Black Ice" recently won a National Space Society contest.