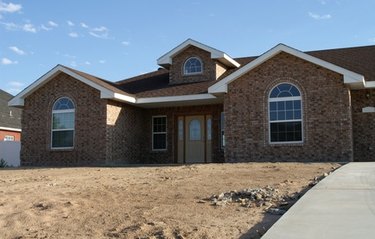 While labor costs are fairly standard, other factors can influence the total cost of a roofing job. As with any home project, soliciting bids from several contractors is recommended.
Materials
A wide range of materials are available for roofing, and these materials comprise the largest portion of the total cost. Most commonly used are asphalt shingles, at an average cost of $50 to $150 per 100 square feet, as of 2008. For 1,100 square feet, average material cost ends up between $1,500 to $2,000.
Layout
The configuration of the roof will be a factor that effects labor cost. A roof with many dormers, hips, or valleys will be more labor intensive, driving up the cost per square foot.
Labor
An ordinary 1,100 square foot roof takes the average roofing crew one day to complete. Contractors have different methods of calculating labor. Some choose an hourly method where others bill labor on a job-by-job basis. Average cost for labor should be roughly equivalent to material cost.
Considerations
Contractors often offer extended warranties on their labor and materials. The cost of these extended services varies greatly due to the range of options available from different contractors. When taking all factors into consideration, expected price range for an 1,100 square foot roof falls between $3,000 to $5,000. Bear in mind that geographic location, competition, a complex layout, premium materials, and top-level warranty services are all factors that can affect price.
---
From South Carolina, Ron Fasick began writing in 2001 for local music news website BluegrassJam.net. Following his experience there, Fasick spent several years in the construction and engineering sectors, where he garnered strong technical and report writing skills. Fasick holds an Associate of Science in civil engineering technology from Central Piedmont Community College and studied music at Winthrop University.