Honeywell thermostats help control air temperature in the home. There are basic and advanced models available. Basic models typically adjust temperature up and down with a digital LCD output. Advanced models can be programmed to adjust temperature at certain times of day to save money on heating costs. When something goes wrong with a Honeywell thermostat, the owner's manual may not have the answer you need. The Honeywell website offers answers to frequently asked questions, including several about troubleshooting.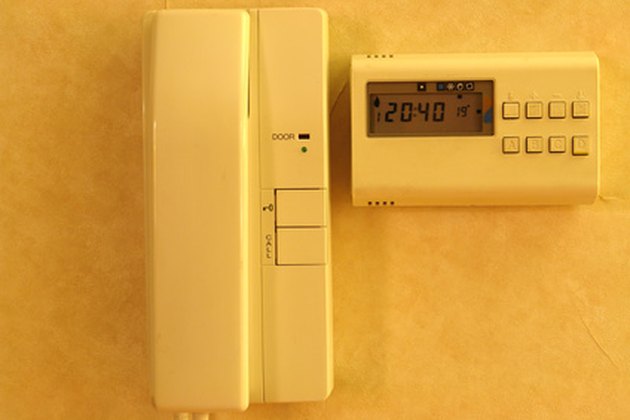 Troubleshooting Common Problems
Step 1
Seat the display properly. If the display is not relaying information accurately or visibly, it may be seated incorrectly in the wall mount. Remove the thermostat from the wall mount and reseat. There may be a clicking sound when the thermostat is seated correctly on the wall plate.
Step 2
Test for adequate electrical power. Check the breaker box for blown fuses or tripped breakers. Replace the fuse or reset the breaker as needed.
Step 3
Secure all power wires on the back of the thermostat. Turn off the main breaker for the thermostat and remove the unit from the wall plate. Turn the thermostat over and tighten all wires. Pay close attention to wires marked "C" and "R." These wires need 24 volts of electricity to power the thermostat. After tightening the wires, flip the breaker and test the connections with a voltmeter.
Step 4
Replace batteries and maintain battery connections. Thermostats may require fully charged batteries as a secondary source of power. Replace batteries in the thermostat with high-quality alkaline batteries. If dirt, dust or debris has collected on the battery terminal, remove it for a better connection.
Step 5
Diagnose common error codes. E1 will appear on the screen when there is an open temperature circuit. E2 will appear on the display when the temperature circuit is short. In both cases, the thermostat will need to be replaced.
Troubleshooting Questions and Answers Online
Step 1
Find your model number on the thermostat. They are on the back of the unit and start with a T, TH, RT, C or CT.
Step 3
Select "Thermostat" from the product category pull-down menu. There are three types of thermostats listed, including retail and trade varieties. Most homeowners should select "thermostat" without the retail or trade.
Step 4
Choose "troubleshooting your thermostat" under the drop-down menu "Select a Topic." General, installation and programming questions also can be chosen if those topics cover your thermostat problem.
Step 5
Enter the model number found on the back of your thermostat. All frequently asked questions are displayed based on specific model number. This helps consumers quickly find the answers they need without sorting through questions about different thermostats.