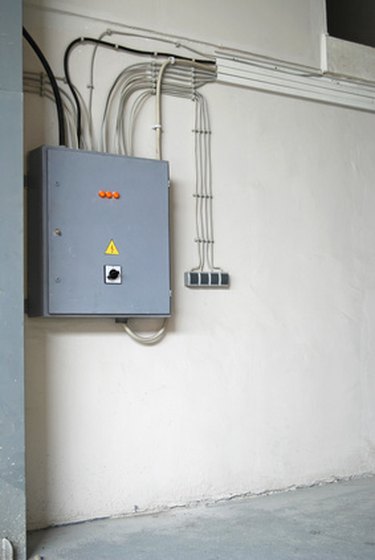 In commercial and industrial applications, the use of three-phase power is common. This type of power is necessary for large motors, welding equipment and other large loads. The breakers are usually much larger than residential breakers. Three-phase power has three hot wires instead of one. There is no neutral wire to attach in this type of panel. Grounding is the same as for any other panel.
Step 1
Turn off all power to the breaker panel. This is usually a main breaker or a transformer.
Step 2
Open the panel cover(s) and remove the breaker front from the panel. There are usually several screws holding it onto the panel. Use a screwdriver to remove the screws.
Step 3
Check all the main terminals carefully, using a voltmeter, to ensure that the power is off. Measure the voltage between each of the hot wires and then check each terminal to ground.
Step 4
Locate the three hot wires entering the panel. Using a screwdriver, loosen the terminals on the breaker. Place one of the wires under each lug on the breaker and tighten until snug.
Step 5
Locate the ground entering the panel, place it under a ground bar lug, and tighten until snug.
Step 6
Install the panel cover(s) and screws. Carefully replace the cover(s) to avoid damage to any wires.
Step 7
Turn on the power source. Check the operation of the device.
Tip
Make sure the amperage for the device is correct.
The exception to the no-neutral rule on three-phase panels is a lighting panel.
If you are connecting a motor, check the rotation.
To reverse rotation, reverse any two hot wires to change the direction.
Warning
Any time you are working on or around electricity, you should turn off all sources of power before beginning work. Electricity can cause severe injury or death if handled improperly.
---
Glenn Altshuler has been writing professionally since 1992. He has written training material for electrical apprentices and management training. Altshuler is an expert in electrical contracting, automotive repair and marine engineering. He has been a commercial electrical inspector, a licensed electrical contractor and general contractor in Arizona. Altshuler received ASE certifications for engine building and auto suspensions from Golden West College in Huntington Beach, Calif.