Things You'll Need
Screwdriver

Rubber mallet

Broom

Putty knife

Flashlight

Pry bar

Adhesive remover

Metal scraper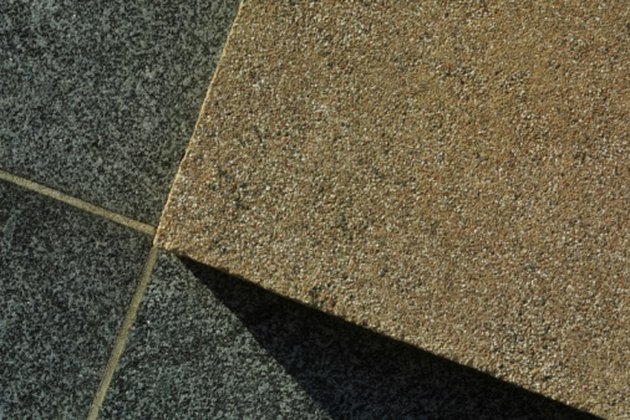 If you have grown tired of the granite tiles in your kitchen or bath, it may be time to pull them up and install something fresh and new. Granite tiles are sturdy and able to withstand significant abuse, allowing you to remove them safely from a floor, counter or wall. You can then reuse the tiles in a number of ways. Pulling up the granite without damaging it is a simple task when you use the right tools and correct procedures.
Step 1
Set the tip of a flat-head screwdriver along one of the grout lines. Hammer lightly on the handle of the screwdriver with a rubber mallet until the grout cracks. Hammer until you break all the way through to the concrete floor beneath the tile.
Step 2
Slide the screwdriver over ¼ inch and angle the screwdriver so it is pointing toward the first crack. Hammer again until a ¼-inch piece of grout breaks free. Repeat this process until all of the grout has been knocked loose.
Step 3
Remove the broken grout with your hands or a broom and discard.
Step 4
Slide a putty knife underneath a granite tile. Jiggle the handle of the putty knife until it slides freely underneath the tile. Slide a pry bar underneath the tile and press gently to lift the tile from the floor. Repeat this process for all tiles.
Step 5
Lay the tiles face-down on a tarp. Spread adhesive remover on the back of each tile with an old paintbrush. Allow the adhesive remover to sit on the surface of the tiles for 30 minutes or according to the package instructions.
Step 6
Scrape the back of each tile with a metal scraper to remove the softened adhesive. Rinse the tiles with clean water to remove the chemical residue.
---
Lisa East Hunter is a consultant and freelance writer in Phoenix. Her background in marketing and technology led her to explore all avenues of writing. She is currently dividing her time between freelance writing and her consulting business. Hunter has a Bachelor of Science in management information systems and marketing.