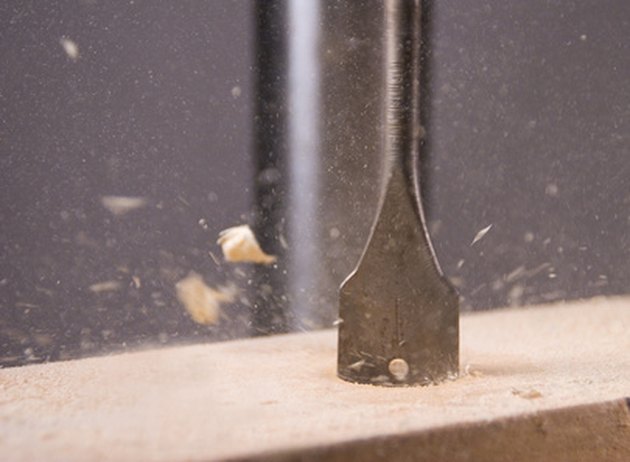 Black and Decker's Workmate line features several compact folding workbenches, suitable for general DIY work. Some models, such as the WM540, have wheels attached, and can be used as a trolley for large items as well as folding out into a workbench. Standard models, such as the WM536 and the WM750, are simply fold-out workbenches. Both of these models have a footrest on an intermediary level for added stability. Unfolding your Black and Decker Workmate incorrectly could lead to instability and ultimately accidents, so it is important to observe the correct procedure for unfolding the tables.
WM540
Step 1
Unlock the folding mechanism using the control in the middle of the WM540. This is the grey attachment on the center bar of the workbench. There is a diagram on the top of the control, but the dial should be turned to the right to unlock the bench.
Step 2
Lift the back support section upward. The back support is the frame with the locking mechanism on, and is the closest side to you if you are pushing the unit along using the wheels provided. Lift the support high enough for its lower end to clear the fold-out trolley shelf when pivoted.
Step 3
Pull the top end toward you. The lower end of the support should swing out to the front of the unit, and the two halves of the unit should form an "X" shape. The workbench portion of the WM540 should open out at the same time, forming a horizontal sturdy surface across the top of the "X" shape.
WM536 and 750
Step 1
Pull the table portion of the unit up. This should swing upward, toward the thicker end of the base. You can rest your foot on the base portion for additional support as you open the Workmate.
Step 2
Ensure the diagonal support bar from the lower half of the unit is correctly connected. The thick bar is attached to a black, boot-shaped connector, which also has a hook attached to it. The hook should be attached vertically underneath the bar connection, leaving the small hole beside it visible.
Step 3
Unfold the legs tucked underneath the unit. These legs are folded inward underneath the lower section of both the WM536 and the WM750. These are folded outward one by one, providing a wider and sturdier base for the Workmate. Test that the structure is secure by pushing your foot down on the lower level.
---
Lee Johnson has written for various publications and websites since 2005, covering science, music and a wide range of topics. He studies physics at the Open University, with a particular interest in quantum physics and cosmology. He's based in the UK and drinks too much tea.