Nothing can get your day off to a bad start faster than problems with your espresso machine. Many people purchase pump model home espresso machines because they are supposed to be the easiest to use, so troubleshooting may seem beyond your capabilities. Difficulty with your Krups pump model doesn't mean you have to give up on it. However, there are some easy fixes for many issues. You'll be back to fresh espresso in no time.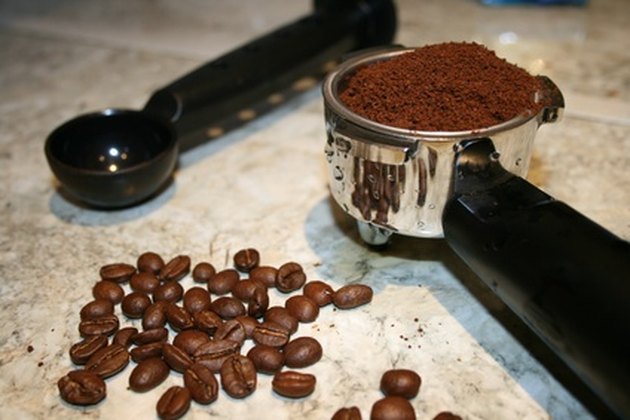 Problem: Coffee leaks from around the filter.
Step 1
Make sure the filter holder is correctly positioned. Place the holder flat against the brewing head and then turn in to the right as far as possible. With the Krups machine, it should lock into place when turned.
Step 2
Clean the gasket and the edges of the filter with a warm, damp cloth to eliminate any coffee grounds and oil.
Step 3
Tear any excess paper from the edges of the paper pod. Be sure the red marking is face down and all the paper is inside the filter.
Problem: Water won't run through.
Step 1
Fill the tank with water. Press down firmly to make sure the tank is properly seated.
Step 2
Clean the filter to make sure it isn't clogged.
Step 3
Descale the brewing head grid and machine. To descale, remove the brewing grid. Mix a descaling solution and soak the head and grid as directed. Rinse thoroughly.
Problem: Water runs through too quickly, creating weak espresso.
Step 1
Grind the beans more finely.
Step 2
Add more coffee to the filter. Always be sure to use a sufficient amount.
Step 3
Tamp the coffee more firmly before brewing.
Problem: The espresso has to crema, or froth.
Step 1
Use a finer grind for the coffee.
Step 2
Tamp the grounds more firmly before brewing.
Step 3
Use fresh coffee. Coffee that is stale becomes too dry to create a rich crema.
Problem: Coffee grounds are wet.
Step 1
Tamp the grounds more firmly.
Step 2
Increase the amount of coffee grounds used.
Step 3
Use a coarser grind for the beans.
Problem: Milk isn't very frothy.
Step 1
Clean the cappuccino accessory with a damp cloth.
Step 2
Be sure to use fresh, cold milk in a cold frothing pitcher for the best froth.
Step 3
Check to see that there is water in the tank.