If you frequently rent a margarita machine -- or spend too much time at parties behind a blender -- making a custom machine can save you time and money. A margarita machine made from a modified Igloo ice chest can produce up to five gallons at one time, even though constructing one is a lengthy process. The cost of supplies can be less than renting a machine three or more times. Once the machine is finishes, simply add ice, margarita mix and liquor and then turn the switch on.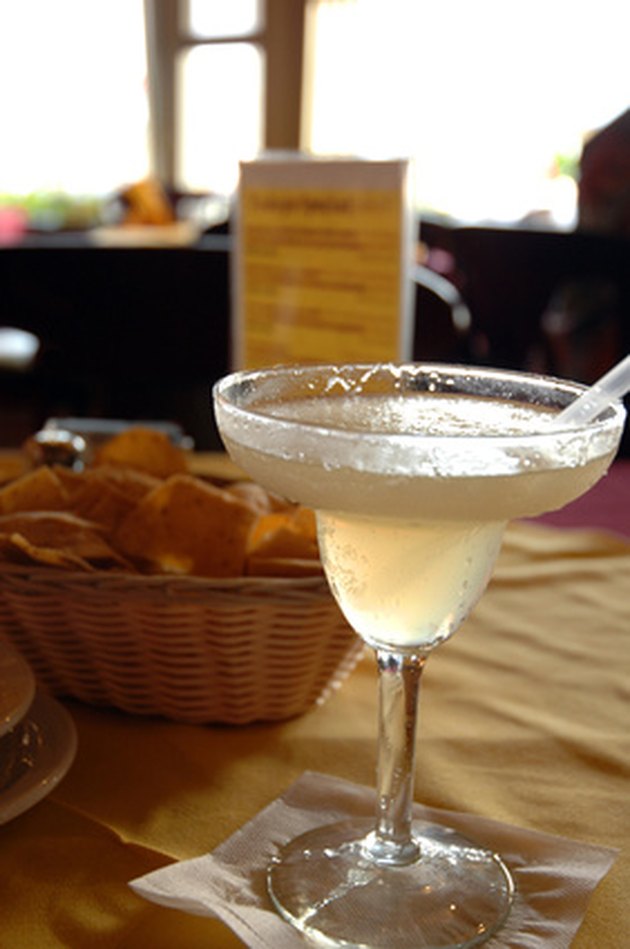 Step 1
Unscrew the lid of the Igloo cooler. Find the center of the bottom and place the other rubber gasket into the center of the cooler.
Step 2
Use a marker to outline the inside circle of the gasket.
Step 3
Drill or cut out a hole from the circle you drew.
Step 1
Wash all the pipes before using them. Slide the 1 ¾ inch long PVC pipe into the tailpiece, and apply a generous amount of glue around the connection. Slide the rubber gasket that came with the disposal over the PVC pipe.
Step 2
Slide the flange that came with the disposal over the tailpiece and gasket.
Step 3
Screw the flange in place on the disposal with the supplied screws. Make sure the gasket is in between the flange and the disposal unit.
Step 1
Lay the cooler on its side, and press the milk crate against the bottom of the cooler. Cut the milk crate so that piping for the disposal can slide through. Slide the T connector over the tailpiece. Place the disposal under the unit, but do not install it yet. Mark the bottom of the cooler for the drainage hole. Drill a ¼ inch hole on the mark.
Step 2
Install the disposal into the Igloo cooler. Follow the directions that came with the unit. Place the O ring over the ¼ inch male adapter. Push the male adapter through the new hole from the inside. Attach the 3 9/16-inch long pipe to the nipple of the T connector and connect it with the union. Glue these together.
Step 3
Attach the 1 ¼ pipe to the bottom of the disposal. Glue the 90-degree elbow to the pipe to create a faucet for the machine. Cut the female end off the extension cord and wire the rest to the disposal's power wires. Use electrical tape to seal the wires. Wire the appliance switch to the disposal and attach it to the side of the milk crate.