The salvaged wood trend continues to grow and has extended to rustic oak barrels originally intended for storing and fermenting beer, whisky and wine. A well done wood wine barrel adds warmth to your outdoor or indoor space. Repurposing a wine barrel is a fairly fun and fast project that can turn a bland space into one with a bit of history in the salvaged wood piece you have perfected.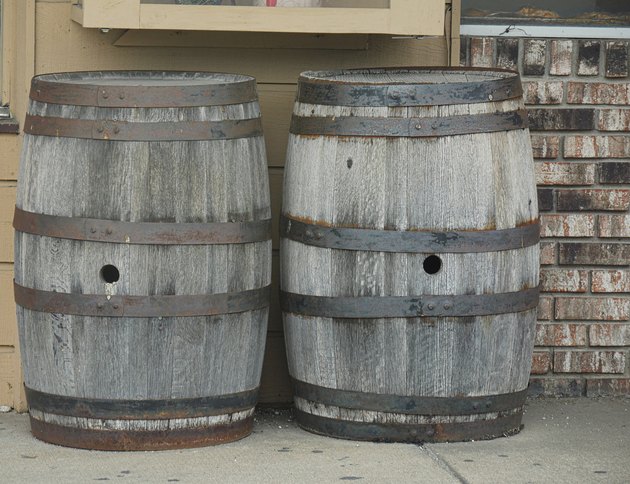 credit:
raksybH/iStock/GettyImages
You can hunt down old barrels, cobble together new ones yourself or hire a professional. If you crave authenticity, genuine wine barrels are sold online from wineries, breweries and vineyards around the world. They are often willing to give them up for a pretty penny. You can also find them locally with a little digging. Collectors sell off barrels as they find new ones. A small local brewery or distillery in your area may offer to sell them at certain times of the year. Carpenters can whittle one together if you prefer to age the barrel yourself.
Once you have acquired a wine barrel, you need to get it ready to receive a slick of varnish. Remove the bands so you can sand and varnish the entire barrel. Leave the top and bottom bands that hold the curved slats in place. The grain of the wood needs to be opened up to allow the stain or varnish to adhere to the wood smoothly. Sand the barrel inside and out with a 120-grit sandpaper. Then, use a 220-grit sandpaper to give it a fine finish before rubbing it down to remove any dust.
A stain with a sealer will save you some time. If the barrel is large and awkward to paint from top to bottom, place it on a stand that won't tip over easily. Wine barrels tend to be heavy, weighing in at around 100 pounds. Varnish the top half to the middle point, then turn it over to paint the other half for a consistent coat. With the bands removed, be careful not to let the barrel come undone. If the boards shift easily, replace the bands before turning it over to coat the other side. Once you have coated the barrel, apply hoop nails to the two rivets where the band is held together. Align the bands with that spot over the bung hole that is on the side of the barrel. Hold the L-shaped hoop nail with pliers. Place the tip on the bottom of the band between the rivets before driving it in with a ball peen or smooth tipped hammer. Drive a total of four nails into the band directly across from each other and equal distance around the band.