Tiki torches fuel the ambiance of backyard gatherings by brightening the night and repelling mosquitoes with their petroleum-based citronella oil. Non-petroleum alternatives to citronella oil, such as bio-diesel, paraffin oil and propane, are also available to fire up your torches in a cleaner, more eco-friendly fashion.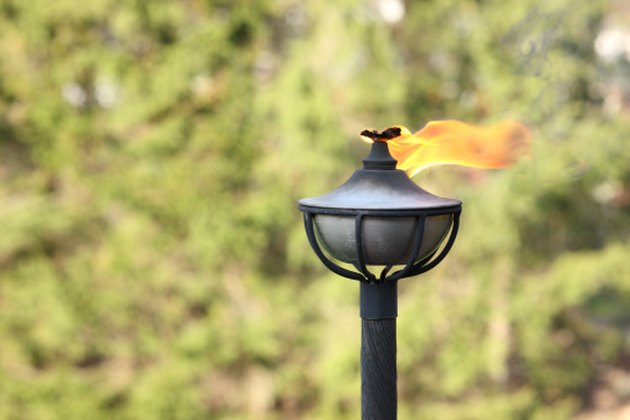 This eco-friendly torch fuel, which is made from recycled vegetable oil-based bio-diesel, often contains mosquito repelling citronella and burns longer with less smoke than petroleum-based torch fuels. One bio-diesel, citronella-scented fuel, Purple Skeeter Beater from Patriot Bio Products, is available online for $14.99 a gallon plus shipping.
Touted as the cleanest-burning torch fuel available, smoke-free paraffin oil is a transparent, colorless and odorless oil that is safe for indoor or outdoor use. It's typically also a more expensive option, priced at around $30 for 28 ounces of pure paraffin oil.
Propane-fueled torches offer a distinct advantage over oil-burning torches because there is no oil to spill, and they are adjustable, so it's easy produce the exact amount of light you require. Propane torches come in many different styles from small torches that run on a one-pound canister of propane to permanent tiki torches that can be installed underground and run off large refillable propane tanks. Prices for these torches range from $30 to more than $300 online and in stores, with propane refills available at many hardware stores and service stations.