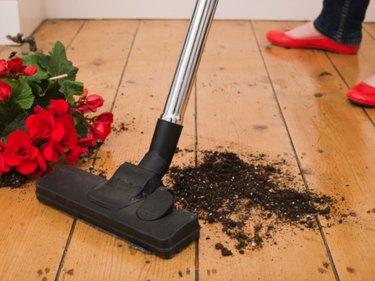 Sears-owned Craftsman produces its wet-dry vacs, or "shop vacs," as combination wet- and dry-pickup vacuum cleaners suitable for workshop use. Consumers use these tools for cleaning up sawdust and other debris, and also light liquid removal. These vacuums should not be substituted for a pump in a flooding situation. The vacuums can, however, also blow. Problems with the Craftsman shop vacs can be corrected by following some troubleshooting steps.
Step 1
Empty the liquids when the Craftsman shop vac stops picking up liquid — the canister is full. You can also tell when the canister is full by listening for a high-pitched whine which replaces the normal, deeper operating noise. Empty the shop vac by loosening the wing nut on the drain, removing the plug, and allowing the liquids to flow out. The drain is at the bottom of the drum on the side.
Step 2
Allow the filter to dry if you've been picking up wet material, and the machine won't pick up dry material. When the filter gets wet, it will clog when you try to pick up dry material. The simplest solution is to have a filter for wet use and a filter for dry use. If you've clogged the filter, clean it.
Step 3
Clean the filter if it has become clogged and the Craftsman shop vac's performance deteriorates. Unplug the power cord and remove the wing nut and plate on the bottom of the filter. Remove the filter by pulling it off the wire guide. Shake the filter to remove dust and then run water through it. Fix any small holes or rips with tape, but discard a filter with major rips. Replace the filter by threading the wire guide through the middle hole in the bottom plate of the filter. Replace the wing nut.
---
Patrick Nelson has been a professional writer since 1992. He was editor and publisher of the music industry trade publication "Producer Report" and has written for a number of technology blogs. Nelson studied design at Hornsey Art School.