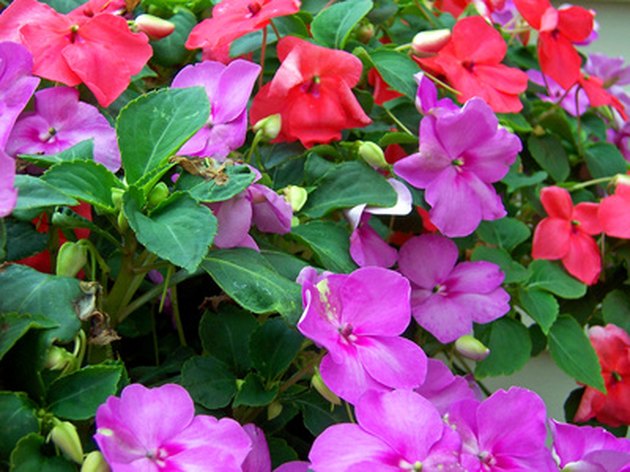 You may think the area in your yard that is in total shade will never be able to grow plants that bloom, but that is not the case. There are many flowering plants and shrubs that prefer to grow and bloom in the shade, a few will even bloom when they grow under dense evergreen. As long as drainage, water and soil requirements are met, these plants can brighten even the darkest of landscape areas.
Annuals
Annual flowering plants are best started in shady areas as bedding plants and not from seeds directly into the shaded soil. Even though annual plants will only live for one season in your shaded area, they can provide a continuous of blooming color from early summer until the first frost. Impatiens have long been a favorite of gardeners with shaded areas because impatiens thrive in shade and burst with vibrant colors of pinks, reds, lavenders and white. New varieties are developed yearly giving you a choice of colors, single or double blooms and height. Other shade-loving annual plants are wax begonias, pansies, browallia, wishbone flower and dwarf salvias.
Bulbs
Many gardeners do not consider planting bulbs in shaded areas because for the bulb to generate enough food to form a flower for the following year, the foliage must have sun. But, if you consider bulbs in the same manner as annuals, replanting fresh bulbs annually, you can successfully grow blooming bulbs in shaded areas. This is because when you purchase fresh bulbs, the flower for that year has already been formed inside the bulb and is waiting to emerge.
Plant your spring blooming bulbs like crocus, snowdrops, hyacinth, daffodils and tulips in the fall to allow for the required chill time. In the spring, the bulb foliage and flowers will sprout forth. In the fall, dig up and discard the spent bulbs and plant new, fresh bulbs for the following spring.
Perennials
Although perennials usually only bloom for a short period of time, unlike annual plants, there are many that will display a fine show of color in shaded areas while in bloom. Bleeding heart plants are a perfect perennial plant for low-light areas, as are hydrangeas, lily of the valley, astilbe, coral bells, violets, helleborus, foxglove and begonias.
Shrubs
Flowering shrubs can add color to a dark area in your yard. Azaleas and rhododendrons have always been a favorite flowering shrub for shade areas. Bottlebrush buckeye can grow into a large bush, with lush foliage and long white spikes of flowers in the early summer. The slow-growing kerria japonica shrub thrives in dense shade and will reward you with a mass of showy, golden blossoms in early summer and then intermittently the rest of summer. Oak leaf hydrangeas are found naturally growing in dense, shaded, wooded areas and will grow well beneath your trees.
---
At home in rural California, Kate Carpenter has been writing articles and Web content for several well-known marketers since 2007. With a Bachelor of Fine Arts degree from the University of Kansas and a Master of Education equivalent from the University of Northern Colorado, Carpenter brings a wealth of diverse experience to her writing.