Weekend lumberjacks count on well-built and proven chainsaws to cut through their huge jobs without breaking down or getting jammed. The Husqvarna line of saws is known to be one of the best on the market for more than 100 years. Owning a Husqvarna can save energy and hours as you buzz through big jobs.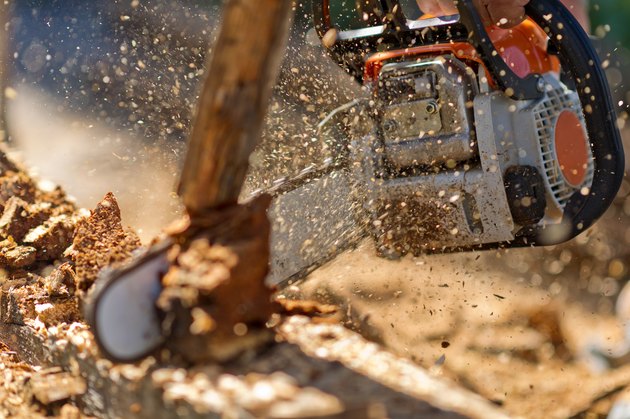 credit:
margroup/iStock/GettyImages
The Swedish company made its debut during the Renaissance Age. In 1689, it created everything from weapons to sewing machines. Husqvarna, pronounced "Eeesk-Var-Nuh," made big steps to become one of the world's best-selling tool making companies. Today, it makes a wide range of products, from push and riding lawn mowers to bicycles, cutting and gardening equipment, sewing machines and, of course, an award-winning chainsaw.
Husqvarna came late to the chainsaw game, presenting a blade more than 30 years after the first saw hit the mass market. It was in response to the industrial chainsaws that took two men to operate and were bulky, loud and difficult to use. Engineers at the company were focusing on making a chainsaw that could be easier to wield and emit a lot less noise. It tinkered and toiled until the Husqvarna was ready to hit the market in November of 1959. The Husqvarna chainsaw was light enough for homeowners to operate to cut dangerous limbs off trees or beat back brush on large properties. The engineers at Husqvarna continually turned their attention to making the chainsaw easier to use in everyday situations by cutting back on the vibrations that made for fatigue and injury among users.
The Husqvarna chainsaw is known for its longevity. Users tend to trade in their saws for new ones simply because the newer models were designed with them in mind and usually are a considerable upgrade for noise and fatigue issues. The Model 70 was durable and lighter than most chainsaws on the market when it debuted in 1963. The company tinkered with the engine and safety issues to create the Model 140 in 1973. It was the first chainsaw on the market to have an automatic chain break to stop the motor and prevent accidents. If the saw bumped into something with its trademark rounded end, the motor came to a halt. If the saw became buried in wood and got stuck, the machine automatically stopped to prevent further damage and allowed the user to pull it out safely.
The latest models include the 375 XP, which is touted to be the world's most powerful chainsaw, and the farmer favorite Model 55 that has been in continued use since its debut in the late 1970s. The 335XPT is heralded for its ease in inhabited areas that help arborists control growth with ease.