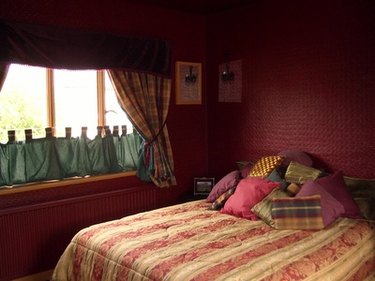 Mitering bed corners is a practice made popular in the army, for neatness, and in hospitals, for the comfort of patients. It is a technique that creates a sharp, smooth corner on the bed, where normally wrinkles would be left by non-fitted sheets. If you've not worked in a hospital or served in the army, the process can take a little bit of practice, but adding the extra step to your daily routine can make you more comfortable, and can impress guests.
Step 1
Place the fitted bottom sheet on the bed, stretching the elastic over one corner of the bed. Then stretch the next elastic corner to the corner diagonally opposite to the first one. Repeat on the other two corners in the same manner, smoothing out the wrinkles as you go.
If you are not using a fitted sheet, follow the steps below to miter the corners for both your bottom and top sheet.
Step 2
Place the top sheet in the center of the bed, slowly unfolding it until it is draped evenly over each side of the mattress.
Step 3
Lift up the part of the sheet that is hanging over at one corner of the bed, holding it straight up so that it forms a triangle.
Step 4
Pull the triangle tight with one hand while using your other hand to form a sharp corner on the sheet against the bed.
Step 5
Lay the triangle on the mattress, and tuck in the sheet left hanging near the corner you're currently working on. Tuck it as firmly and neatly as possible, so that the mattress lies flat against the bed frame.
Step 6
Drop the triangle so that it lies parallel to the side of the mattress. Tuck it in, forming a neat, tight corner.
Step 7
Repeat the above steps on each corner that needs to be tucked in.
Step 8
Miter the corners of the top sheet, using the above steps.
Step 9
Miter the corners of the bedspread. If you are using a duvet or a comforter, this step is not necessary.
---
Tracy Martin has been writing since 2002. She has worked as an editor at major publishing houses, and has written for several publications such as "Art & Antiques," "Atlanta Magazine" and "Creative Loafing." Martin received a Bachelor of Arts in English in 2006 from Emory University.