Things You'll Need
Washing machine

Gentle laundry detergent

Water

Dryer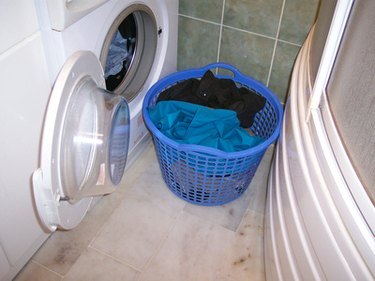 Blankets are typically made from a blend of different fabric styles which create different textures and thicknesses. A common blend is 85 percent acrylic and 15 percent polyester, which creates a light blanket that holds in warmth well. A problem that often faces this type of blanket is improper wash procedures, which can quickly shrink the blanket when washed the wrong way. The key is to use a light wash procedure that is still effective enough to thoroughly clean the blanket.
Step 1
Place the blanket in your washing machine by itself.
Step 2
Turn on the machine with a cold water cycle and gentle wash setting for delicates.
Step 3
Pour one capful of your basic mild laundry detergent into the washing machine, again using the type of detergent used to clean delicates.
Step 4
Remove the blanket and either hang dry or place the blanket in your dryer using a cool tumble dry setting.
---
Mel Frank is a professional freelance writer with over 15 years of writing experience. She has completed a wide variety of writing assignments for a number of publications that include CNN and various websites. Frank received a Bachelor of Fine Arts from a prestigious university in Pennsylvania.