Things You'll Need
Stepladder

Screwdriver (optional)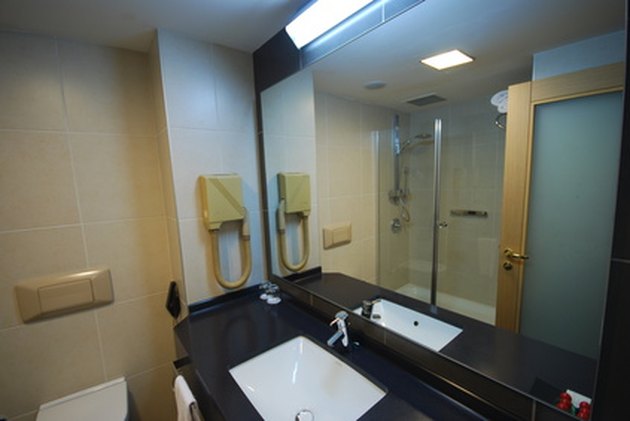 Since most bathrooms must have an exhaust fan and light, many homeowners install combination fixtures. These multi-function bathroom fans come in many styles, shapes and colors to fit almost any decor. Just as with traditional lights, the bulbs in the exhaust fans must be replaced periodically when they burn out. Replacing the light bulb in the exhaust fan is a quick process once you remove the fan's cover.
Step 1
Place a stepladder under the exhaust fan and climb up onto it. The light switch must be turned off.
Step 2
Remove the cover from the exhaust fan, which varies based on the style. If the cover has a metal nut at the center, turn it counterclockwise to unscrew it. Some fans have a plastic square cover; you remove it by squeezing the sides. If you see screw heads on the exterior of the fixture, you may need to remove them with a screwdriver.
Step 3
Set the cover and any screws or metal nuts in a safe location while you change the bulb.
Step 4
Grasp the light bulb in your hand and turn it counterclockwise until it comes out of the exhaust fan. Throw the bulb into the garbage.
Step 5
Pick up a light bulb that is identical in shape and wattage to the old bulb. Insert it into the bulb socket and turn it clockwise until it will no longer turn.
Step 6
Replace the exhaust fan cover by reversing the removal steps.
---
Kimberly Johnson is a freelance writer whose articles have appeared in various online publications including eHow, Suite101 and Examiner. She has a degree in journalism from the University of Georgia and began writing professionally in 2001.