Maytag refrigerators are known for being reliable, but minor issues occasionally arise. When the refrigerator starts making a clicking noise, there are several possible culprits. Do not, however, attempt any repairs yourself if your unit is under warranty, as you could accidentally invalidate it.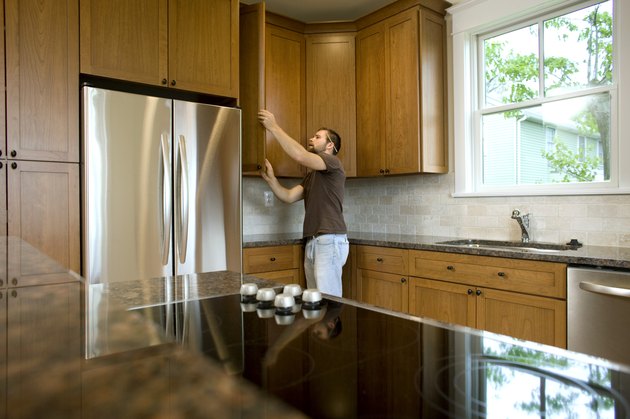 According to Maytag, you may hear a clicking-type noise when ice ejects into the bin, when water drips on the heater during automatic defrost, when the ice maker fills with water or when water moves through the lines. These are normal sounds. The inside of the cabinet may also click as it contracts with cooling. These sounds do not require repair.
Open the freezer and manually push the door latch. If the noise gets louder, locate and replace the fan on the back wall.
If the noise is coming from the outside back of the refrigerator, unplug it and locate the condenser fan. Depending upon which Maytag you have, you may have to remove a metal plate to access it. Vacuum away any dust. If it still makes noise, replace it.
Remove the front kickplate and check the stability of the drain pan. If it is the source of the clicking noise, it is unstable and should be duct-taped into place.
Locate the defrost timer, behind the kickplate, beside the drip pan. If you've stabilized the drip pan and the clicking is still coming from underneath the refrigerator, replace the defrost timer.