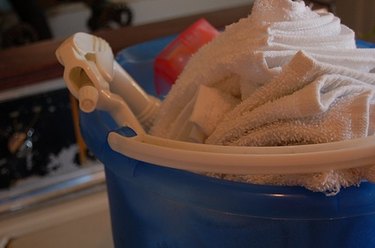 Rejuvenate is a home improvement product designed to clean and restore your wood flooring back to its flawless original condition. A big problem with Rejuvenate Floor Restorer is the film the product often leaves behind after applying it to the floors. You typically don't notice this during application, but a few hours later after the floor has fully dried you are stuck with a cloudy film that covers the entire floor. Fortunately, there is an inexpensive way to reverse this damage.
Step 1
Pour 1 cup white vinegar and 1 gallon warm water into your cleaning bucket.
Step 2
Swish your mop in the mixture and squeeze the mop out as much as possible, making sure the water goes back into the bucket.
Step 3
Wipe this mop over your flooring, applying pressure as needed and repeating the application until all of the film appears to be removed.
Step 4
Let the floors air dry and examine the floor after all of the wood is dried. Repeat this cleaning procedure if any residue remains from the Rejuvenate Floor Restorer.
---
Mel Frank is a professional freelance writer with over 15 years of writing experience. She has completed a wide variety of writing assignments for a number of publications that include CNN and various websites. Frank received a Bachelor of Fine Arts from a prestigious university in Pennsylvania.