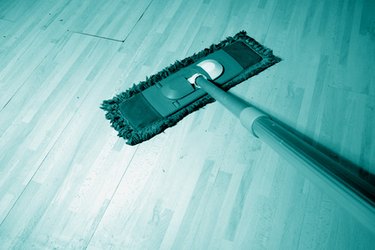 Floor wax serves to protect and seal hardwood floors, keeping the finish shiny and new. While floor wax is still a common product used to finish household floors, it is not the only option. There are many products which effectively clean, polish and protect the floors. Some alternatives to waxing hardwood floors include simple mopping techniques and homemade floor cleaners.
Microfiber Mopping
The Guide to Less Toxic Products, published by the Environmental Health Association of Nova Scotia, recommends using a microfiber mop as an alternative to waxing hardwood floors. The mops, which are more expensive that traditional sponge or rag mops, pick up more dirt and rinse cleaner. For hardwood floors, mop regularly with the microfiber mop and a bucket of clean water.
Oil and Vinegar
The most common homemade substitute for floor wax is a mixture of equal parts vegetable oil and vinegar. This recipe is recommended by both the Earth Easy website and the Frugal Fun website. Apply to hardwood floors in place of commercial wax products. Use a small amount and rub it directly into the wood floor.
Vodka-Based Wax
In addition to vinegar and vegetable oil, a homemade wax can be made using the following ingredients: beeswax, carnauba wax, vodka and olive oil. Combine ½ cup of oil, 30 grams of grated beeswax and 40 grams of grated carnauba wax in a wide-mouth jar. Simmer a pot of water on the stove and place the jar inside the pot. When wax is fully melted, stir in the vodka and remove from the heat. Dip a rag into the homemade wax and rub into hardwood floors, recommends the Guide to Less Toxic Products.
Painted Floor Wax and Cleaner
Some people choose to paint their hardwood floors. To clean and wax painted floors, the Earth Easy website recommends making a mixture of 1 tsp. of washing soda and 1 gallon of water. Use the washing soda and water to mop the floor. It will remove dirt and grime, as well as polish the floor without damaging the painted surface.
Linoleum Floor Wax
In addition to treating hardwood floors, common household products can be used to create a floor wax appropriate for linoleum floors. To create a linoleum floor wax substitute, the Frugal Fun website recommends mopping the floor with a white vinegar and water solution. Mix 1 cup white vinegar into 2 gallons of water. Enhance shine by polishing a mopped floor with club soda.
---
A freelance writer for various online publications, Erin Maurer covers travel destinations, gardening and home decorating projects. She holds a Bachelor of Arts in communication studies from Widener University in Chester, Pa.