Things You'll Need
Access to circuit breaker

Access to power supply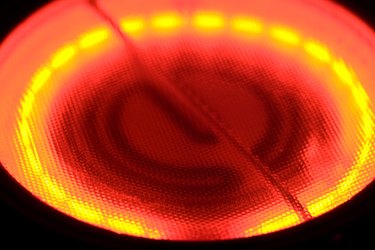 The General Electric Company, or GE, makes gas and electric stoves and ovens for both commercial and home use. GE ranges are available in slide-in and drop-in models that fit in with surrounding cabinets and countertops, or free-standing units for spaces without surrounding surfaces. Troubleshooting a GE range if issues occur is relatively simple, including determining what to do if the oven will not turn off.
Step 1
Turn the oven dial up to a higher heat setting, then turn it back to "Off". Make sure all other oven features are turned off.
Step 2
Shut off the circuit breaker to which the range is attached. Wait 30 seconds and turn it back on. This should cause the oven to reset and turn off.
Step 3
Turn the heat down as low as possible and wait for the oven to automatically shut off if turning off the circuit breaker does not work. GE ranges have a 12-hour automatic oven shut-off feature that causes the oven to turn off after 12 hours of use.
Step 4
Unplug the range and contact an authorized GE technician if the previous steps do not resolve the issue.
---
Meredith Jameson writes early childhood parenting and family health articles for various online publications. She holds a Bachelor of Arts in history from San Francisco State University.