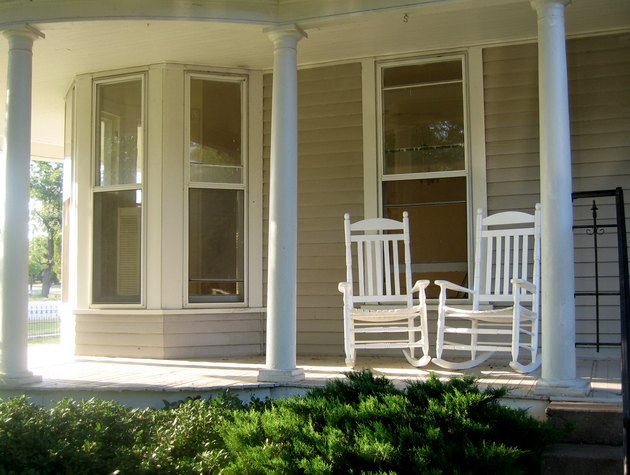 Even though gliders and rocking chairs both provide stylish seats, they have significant differences. Rockers and gliders vary in their construction methods, which directly affects the type of movement and comfort level each chair offers. Before purchasing a rocking chair or glider, compare the two to determine the chair that has the features, comfort and style to accommodate your seating needs.
Style Traits
A classically timeless piece of furniture, traditional hardwood rocking chairs have been around for centuries. They enhance a traditional or country decorating style -- both outdoors and indoors. Because most rocking chairs consist of wood, you can apply a fresh coat of paint to give the piece a modern update. A pristine white paint conveys a charming cottage feel, while bold orange makes a designer-savvy statement. On the other hand, gliders represent a modern version of the traditional rocker. They feature a wooden frame topped with fabric-covered cushions. Some furniture companies allow you to select an upholstery color and print to create a custom-made piece to complement your home's decor.
Construction Features
Built on two simple arced legs with no working parts, a conventional rocking chair varies from the glider because the glider moves via a sliding mechanism installed on a stable base. More compact, lightweight and portable, the traditional rocker conforms to a simplistic design when compared with its sophisticated glider cousin. Assembled without any padding or cushions, the rocking chair cannot compete with the glider's padded seat and back cushions. Some gliders also have rolled and padded arms and a fabric skirt around the bottom. If you have small children, select a glider that locks in place when it is not in use to keep your little one's curious fingers from being caught in the gliding mechanism.
Motion Preferences
Because rockers and gliders move differently, each chair type accommodates varying motion preferences. A glider slides back and forth in a smooth horizontal motion, while a rocker sways back and forth in a stronger movement. If you favor the gentler feel, a glider offers the best choice. Some gliders have a swivel base, which allows you to turn to the right or left without leaving your chair. Try out each chair type to determine the movement you prefer.
Comfort Characteristics
When comparing the comfort level between a rocker and glider, the gliding chair is likely to win you over. Some gliders even feature springs underneath the seat cushion to increase the degree of comfort. Many gliding chairs also come with a small matching ottoman where you can rest your legs and feet. Even though traditional wooden rocking chairs typically do not come with padding, you can make or buy seat and back cushions to provide a more comfortable seat. Whether you prefer a rocker or glider, make sure to purchase a chair with an accommodating seat height that allows your feet to comfortably touch the floor.
---
Mary Cockrill's education and certifications in interior design and home staging have allowed her to author numerous home-related articles. Cockrill has been a top design consultant for a renowned home store and is the owner of Starwood Home & Gifts, LLC, an interior design, decorating and home staging business. She holds a Bachelor of Science in secondary education with a comprehensive major in office administration.