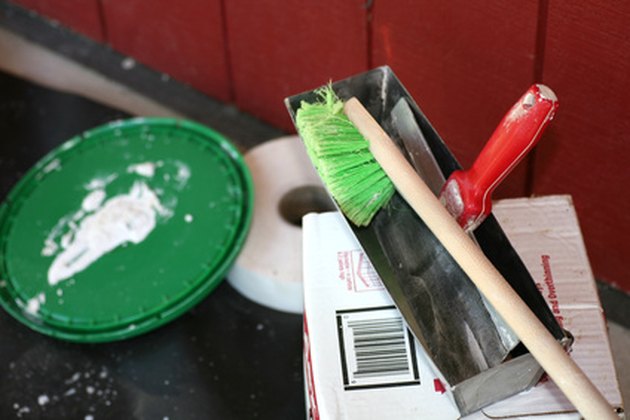 Sheetrock mud, also known as drywall mud, is a water-based compound material that is smoothed over sheetrock seams and screw holes to give a new wall a smooth, seamless finish. However, applying the mud to a vertical wall is certain to have a spill or two in the process. As with any "mud," messy spills are a mess to clean up, but simple and easy home remedies are available to deal with this cleanup task.
Timing
The sooner the better, since, when it dries, the sheetrock mud becomes hardened and more difficult to clean up. When the mud drops to the floor, immediately scoop it up with a spare drywall knife, which will leave only a thin mud residue on the ceramic tile floor.
Bucket and Water
Keep a bucket and cloth handy as you work with the sheetrock mud. While it cleans up easily with just water, adding a little soap or detergent to the water breaks down any adhesive material in the sheetrock mud. It is better to remove any excess mud from the floor before using the cloth and water; excess mud will dirty the water as the cloth is rinsed during the cleanup, and you are changing the water out for a clean supply more often. After scooping up the wet mud with a drywall knife, wash the area with a cloth dampened with warm water. Rinse the ceramic tile, and wash again to remove the remaining residue from the ceramic tile.
Dried Sheetrock Mud
Hardened drops of sheetrock mud may stick to the ceramic tile floor, depending on the adhesive properties of the sheetrock mud. Try to carefully pry the dried mud off of the tiles using a putty knife or wooden spoon. If it doesn't easy break away from the tile, wet the area with soapy water and let it sit for a few minutes. The dried sheetrock mud should easily come off of the tile now. Discard the dried mud, and wash the area with soap and water to remove any dried residue from the ceramic tiles.
Prevention
An easy home remedy for cleaning sheetrock mud is to prevent it from falling directly onto the ceramic tile. Use drop cloths, preferably cloth ones as they are easier to walk across and stay in place. When the sheetrock mud falls onto the drop cloth, clean it up; if you leave it to harden, some of it will easily crumble and fall off.
---
Naima Manal's articles on health, diet, nutrition, alternative medicine, education, parenting, crafts, travel, home and garden and home improvement have appeared on various websites. Manal received her Bachelor of Science in biology/pre-medical studies from Molloy College in 1994 and has been a freelance writer, teacher and homeschooling mom since 1993.