Things You'll Need
Nail gun

Compressor

Air hose

Tool oil

Work pieces

Clamps

Safety glasses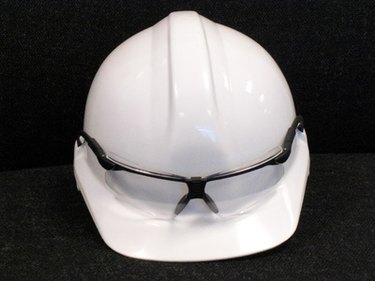 The Bostitch SB-1850BN is a typical brad nailer that shoots 18-gauge brad nails. These type of nailers are used in small furniture construction, cabinet making and trim installation. They replace light gauge finish nails and can save a lot of time and hassle as these small brad nails are some of the most difficult to drive without bending the nail or dinging the work face with the hammer. Safety should be your primary concern, especially when working with a gun that is new to you.
Step 1
Turn the nail gun so that the metal nozzle of the air coupling is pointed up. Drop three drops of tool oil into the nozzle.
Step 2
Release the catch on the bottom of the nail clip, located along the front edge of the gun, below the nail plunger, by depressing the spring loaded catch. The clip will slide open. Place the brad nails into the clip with the chisel tips pointed toward the front of the gun, firmly seated in the grooves of the clip with the tips running against the front edge of the clip. Push the bottom of the clip up firmly, until the catch latches.
Step 3
Pull back on the brass ring on the quick coupling of your air hose. Insert the nail gun's nozzle into the fitting and release the ring, locking it in place.
Step 4
Check the compressor's pressure gauge settings and adjust if needed to meet the requirements of the gun, between 110 and 140 psi. Turn the compressor on and allow the tank to fill. When it has reached the desired pressure, the compressor will switch off.
Step 5
Put on your safety goggles and set up your work piece on a flat, sturdy surface. Align the pieces to be joined and clamp in place if needed, with bar or squeeze clamps.
Step 6
Position the nail gun with its plunger--the tip of the gun above the nail port--against the face to be nailed through. Adjust the gun so that the plunger is perpendicular to the piece being nailed through and the top of the gun is aligned as close as possible with the piece being nailed into.
Step 7
Keep your free hand well back, at least as far from the plunger as the length of the nail, and grasp the gun firmly. Apply pressure to depress the plunger, releasing the safety, and recheck the alignment of the gun. When you are confident of the alignment, squeeze the trigger to drive a nail. Release the trigger immediately to prevent a double nail.
---
Mark Morris started writing professionally in 1995. He has published a novel and stage plays with SEEDS studio. Morris specializes in many topics and has 15 years of professional carpentry experience. He is a voice, acting and film teacher. He also teaches stage craft and lectures on playwriting for Oklahoma Christian University.