Constructing living space inside a metal building can offer many creative choices. For example, the rooms can be built in an over-size fashion to create large entertaining areas. Dimensions of most metal structures will allow for high ceilings and options for vaulting ceilings in certain spaces. Investing in remodeling a metal building can yield a return on that investment, if care is taken to design a floor plan that would appeal to many other people. Avoid creating an interior that would only a few people would find appealing.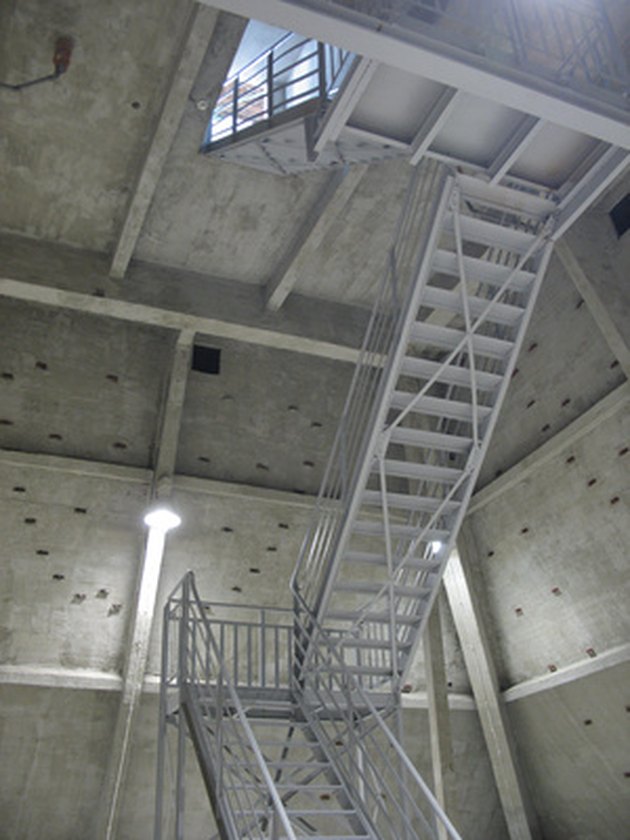 Step 1
Obtain books and catalogs of metal building construction. Visit local authorities to get a copy of building codes and restrictions for remodeling a metal building for living space. Ask about any restrictions, and obtain the proper kind of building permit. Make sure authorities understand the space will become living quarters and not a commercial space.
Step 2
Plan to use insulation with a high R-value in the roof areas and exterior walls to conserve energy. Make sure reflective panels are used on the roof area, since summer heat will be easily absorbed by non-reflective metal. Frame all living areas with 2-by-4-inch lumber boards once an interior layout has been decided. Leave exposed metal rafters, strictly for an artistic effect, in certain areas of the building.
Step 3
Add drywall throughout the building to enclose rooms. Install plumbing lines and electrical wiring before all walls are entirely sealed with drywall. Remember to add touches such as recessed lighting, a doorbell and a burglar alarm system before walls are entirely finished with drywall. Finish the drywall and paint it before installing bath and kitchen fixtures, plus kitchen appliances and cabinets.
Step 4
Finish up all interior drywall and trim, including crown molding and baseboards. Hang closet doors and interior doors. Build exposed wooden shelving or install built-in media cabinets next. Add plastic-coated wire shelving to walk-in closets and any pantry closets.
Step 5
Add hardwood flooring, tile over concrete and carpet in bedrooms and closets. Soften the look of concrete flooring, which a steel building will rest upon, using alternative flooring materials throughout the house. Leave some exposed concrete flooring and metal walls or framing to add high-tech visual interest. Utilize furnishings and fixtures that play up the high-tech style of a metal building.