The symbolic meaning of the pear blossom has varied with history, culture and purpose. Pear blossoms are referenced in poetry, decorate weddings and have been held as a unifier in military campaigns. The pear blossom has been a symbol of hope and of lasting friendship. Pear Blossom is the name of a highway (California State Route 138) and a town in California.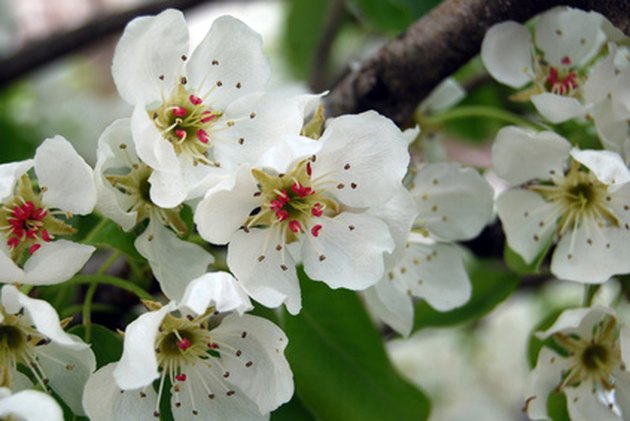 The contemporary western assignation of meanings to flowers stems from the Victorian era. The Victorians loved flowers. They lavishly decorated their homes with floral-themed wallpaper, upholstery, curtains and lamps. The Victorians were inspired by a popular book called the "Language of Flowers" by Henrietta Dumont, published in 1863. This book posited that "the Creator" scattered flowers over the earth to speak to mankind's "sentiments, passions and feelings" (preface). Thus, the Victorians sent flowers to speak of their sentiments, passions and feelings about one another.
The pear blossom spoke to lasting friendship when sent in the Victorian era.
The pear blossom is a symbol of spring. At weddings, the pear blossom symbolizes generosity and hope for the new life of the marrying couple. Its beauty radiates with all the good tidings that are possible for the future of the bride and groom. Sprigs full of blossoms from a pear tree can add an earthy feel to the presentation.
Contemporary and ancient poets alike have featured pear blossoms as symbols of various interpretation. The specific use of the pear blossom provides the tone, taste and smell the author wishes to convey as an experience for the reader of their poetry. Ancient Chinese poets often utilized pear blossoms as metaphors for women, eroticism, purity, isolation and royalty. In English poetry, the pear blossom is a delicate or fragile strength.
Worcestershire, England is home to a local variety of pear that is also incredibly rare: the black pear. In 1899, when several volunteers from Worcestershire left their homes to fight in the Boer War in South Africa, a Lady Dudley gave each volunteer a silk pear blossom to pin on their hats as a symbol of home support and hometown unity. As commendation for their distinguished and heroic service in this war, the pear blossom was adopted as the official badge of the Queens Own Worcestershire Hussars (Yeomanry).
The pear blossom is a flower of the pear tree, which tends to have a long life. The pear is a pome of that blossom, which has a meaning of its own. In Chinese, li means both pear and separation. It is often considered bad luck to give lovers pears or to split a pear with a friend.
But the blossom is simply a lovely bloom that can take on any meaning or interpretation that you assign to it. In determining what the pear blossom means to you—whether you are writing poetry, planning a wedding or drawing some strength from its delicate beauty—the pear blossom can become a symbol or reminder of a memory that you wish to carry forward.