Several types of bleach are available for cleaning; the most common are chlorine bleach and oxygen bleach. While chlorine bleach is harsher and can cause stains in colored carpets, oxygen-based bleaches are much milder and will not remove the color from fabric or carpet. Oxygen bleach is also less toxic than other types of bleach, and it will freshen your carpet and remove smells when mixed with vinegar.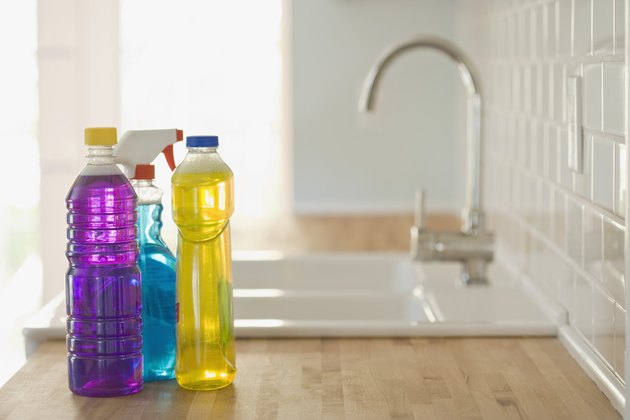 credit:
Jupiterimages/Comstock/Getty Images
Step 1
Measure out the ingredients for the mixture.
Step 2
Add the measured water, oxygen bleach and vinegar to the bucket.
Step 3
Stir the mixture well with a large paddle or spoon until the oxygen bleach is dissolved. It will take five to 10 minutes to dissolve completely.
Step 4
Spot-treat the carpet with the mixture in heavily soiled areas. Place the remaining mixture into a carpet-cleaning device and use as you normally would.
Step 5
Empty the carpet cleaner and add fresh water. Run it over the carpet again with the fresh water to remove any residue from the cleaner.