Things You'll Need
Rags

Ammonia

Liquid dish detergent

Rags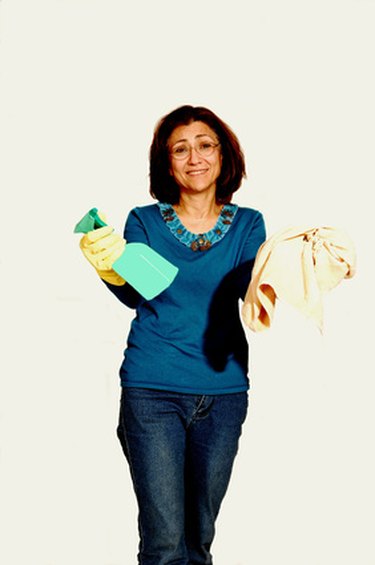 Smeg is an Italian upmarket appliance manufacturer. Smeg appliances are the product of a collaboration between leading appliance designers, technicians and some of the world's premier architects. Distinctive and stylish, Smeg ovens combine design, performance and attention to detail. While a few Smeg ovens are pyrolytic, such as the one designed by Guido Canali, most ovens manufactured by Smeg are not. As high-tech as they are, Smeg ovens often require old-fashioned cleaning in order to keep them beautiful and functional.
Step 1
Let your oven cool off before you clean it.
Step 2
Disconnect your oven's electricity supply.
Step 3
Take all of the removable parts out of your Smeg oven.
Step 4
Use hot water and dish detergent to clean the oven grill and guides.
Step 5
Rub the internal walls of the oven with a soft cloth soaked in ammonia. Be sure you use gloves to protect your hands, and do not breathe the fumes.
Step 6
Place a damp rag soaked in ammonia on the bottom of the oven.
Step 7
Replace the shelves in your Smeg oven so that the ammonia fumes will soften the grime on them.
Step 8
Close the oven door and wait while the ammonia fumes soften the grime. Wait until the food stains rub off easily (it should take between three and five hours).
Step 9
Remove the oven shelves, and wash them off in your sink using liquid detergent and hot water.
Step 10
Wash the oven with hot water and liquid detergent.
Step 11
Rinse and dry the oven with rags.
Step 12
Turn on the oven to its maximum temperature, and leave it on for 20 minutes.
Step 13
Wipe off any remaining residues within the oven.
Step 14
Clean the oven door glass with a damp paper towel. If food stains remain, use a damp scrub sponge and detergent. Rinse and dry the glass with rags.
Step 15
Replace the oven light bulb if necessary.
Tip
It's always a good idea to have your Smeg oven's owner's manual available. Use the link in resources to find your oven's downloadable owner's manual. The doors on some Smeg ovens may be removed for easier cleaning. If yours is one of them, you can find the instructions for door removal in the owner's manual for your Smeg oven model. In some Smeg ovens the oven seals may be removed for cleaning. Look in your owner's manual for instructions.
---
Tammy Dahlvang began writing professionally in 1997. She has contributed "Across the Pastor's Desk" articles to the "Albert Lea Tribune" in Albert Lea, Minn. She graduated Phi Beta Kappa from Northwestern University in 1993, and in 1997 earned a Master of Divinity from Luther Seminary in St. Paul, Minn.