What do you have kicking around the house that will make a nice mold? Making concrete molds from plastic items requires you to think outside the box. Look in your shed or garage for common plastic items such as old tubs, flower planters, buckets, jars and large container lids. Plastic boxes, statuary, kids' beach toys, litter cans and sandbox toys are possibilities. With your collection of plastic molds, you can create stepping stones, statuary, planters, personalized plaques and all sorts of decorations. Let your imagination guide you. Making concrete garden accents with plastic molds can be thrifty fun for the whole family.
Line a square, round or heart-shaped plastic pan with a tight layer of rocks. Carefully pour concrete into the mold to make a garden stepping stone.
Pour concrete into fancy, round or square plastic planters. Use a smaller plastic container to form the inside of the planter. Your new concrete planter will be shaped and decorated just like the hard plastic original.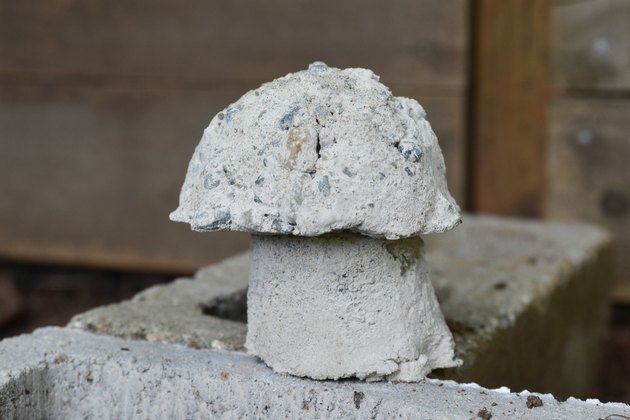 Pour concrete into a small round trash can. Pour concrete into a plastic bowl and when dry, stack the cap on top to make a mushroom. Embellish with tiles, glass, pottery, rocks, pebbles, marbles, jewelry or trinkets of your choice using liquid nails.
Transform a flimsy old plastic birdbath into a solid concrete birdbath. Cut a hole in the top of the base and fill with concrete. Pour concrete into an appropriate sized plastic saucer; a smooth trash can lid might work.
Press an original plastic birdbath top firmly into the wet concrete with a slow twisting motion to form the bath basin. If desired, lift the top mold off again and lightly press fern leaves on top of the wet concrete to stamp it.
Replace the plastic birdbath top if needed to maintain the basin's shape. When dry, use a razor knife or sharp tool to cut along the seam of your plastic mold to release the birdbath base.
Experiment with durable inflatable balls for children, basketballs, soccer balls or any other thick plastic ball. Cut a small hole, funnel in concrete until packed and overflowing, and then seal hole. When concrete is dry, cut away plastic and round out the top with sandpaper or a chisel.
Grow sheet moss on top of your concrete ball or decorate it to your liking. The bottom will have flattened from the weight of the concrete, so it will sit nicely on top of a homemade pillar.