Things You'll Need
Broom

Dust pan

Trash bag or can

Latex gloves

Trisodium phosphate (TSP)

Chlorine bleach

Warm water

Bucket

Mop

80-grit sandpaper

Sanding block or electric floor sander

Nose mask

Safety goggles

Shop vacuum or vacuum cleaner with crevice attachment

Cheesecloth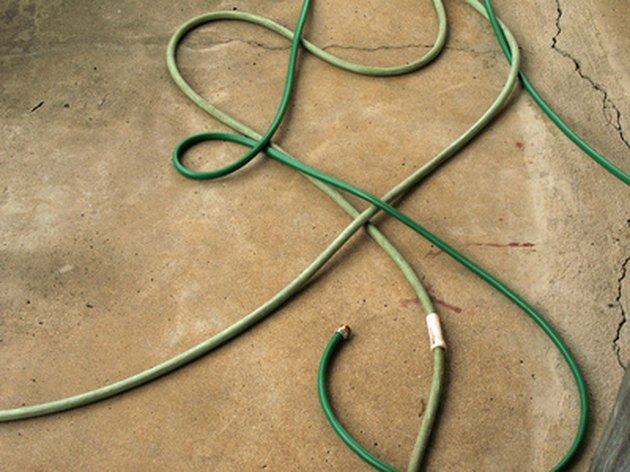 From dust and dirt to caked-on grime, your basement's concrete floor contains layers of debris and possibly layers of paint that needs removing before applying a new layer of paint or coating. Cleaning the floor with soap and water is not enough. You need to sand the concrete floor, by hand or with a sander, so the new layer of paint/coating can adhere to the concrete correctly and not just cover debris or old paint.
Cleaning
Step 1
Move any furnishings from the floor you plan on sanding to another room or area.
Step 2
Sweep the floor and take up the debris with a dust pan. Dispose of the debris in a trash bag or can. Wear latex gloves to keep your hands clean.
Step 3
Mix 1/8 cup of Trisodium Phosphate (TSP), 1 qt. of chlorine bleach and 1 gallon of warm water in a bucket. Stir the mixture with a mop. TSP is available at hardware and home improvement stores.
Step 4
Wring out excess mixture and mop the concrete floor thoroughly with the mop.
Step 5
Rinse the mop with warm water from a sink. Wring out excess and mop the floor with the damp mop.
Step 6
Re-dip the mop in the mixture and repeat steps 4 and 5 until the floor is clean.
Drying & Sanding
Step 1
Let the concrete floor air dry for three days. Attach a piece of 80-grit sandpaper to a sanding block or electric floor sander.
Step 2
Sand the floor by hand using the sanding block or with the electric floor sander. Work in sections and wear a face mask and safety goggles to keep the dust from sanding out of your nose and eyes.
Step 3
Change out the piece of sandpaper when it becomes smooth. For stubborn layers of paint/coating, sand the layer repeatedly with force to break up the paint or coating.
Step 4
Vacuum the floor with a shop vacuum or vacuum cleaner using the crevice attachment. Dump your vacuum cleaner frequently in a trash bag or can. Keep your face mask and safety goggles on during the vacuuming process.
Step 5
Wipe the floor with a piece of cheesecloth to remove remaining dust the vacuum cleaner didn't get up.
Tip
Open any doors and windows leading into and out of your basement to speed up the air drying process after cleaning the floor.
---
Nick Davis is a freelance writer specializing in technical, travel and entertainment articles. He holds a bachelor's degree in journalism from the University of Memphis and an associate degree in computer information systems from the State Technical Institute at Memphis. His work has appeared in "Elite Memphis" and "The Daily Helmsman" in Memphis, Tenn. He is currently living in Albuquerque, N.M.