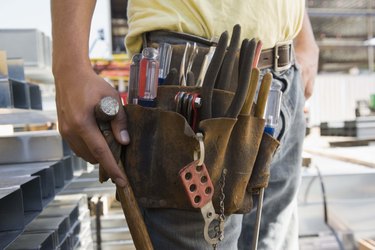 Construction tools can vary widely depending on the material and supplies necessary to the particular job. Carpentry tools are definitely going to be used throughout most construction jobs and you will want to begin by collecting those tools necessary for measuring, cutting, mixing and laying out foundation material and digging. As the construction job evolves, specialized tools make more sense, to meet the tasks that come up as the building goes up.
Hammers
A claw hammer is used in construction for driving in nails and pulling them out. Construction elements like framing, light finishing and demolition all call for the use of a quality hammer. For heavier demolition work, get a medium weight sledgehammer with a long handle to provide leverage.
Nail Pullers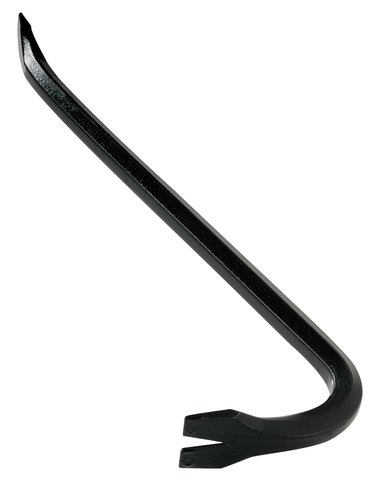 While you can use the claw hammer for pulling out nails, some construction workers prefer using a wrecking bar or cat's paw style bar. These nail pullers are far more useful for pulling out nails driven deeply into wood.
Screwdrivers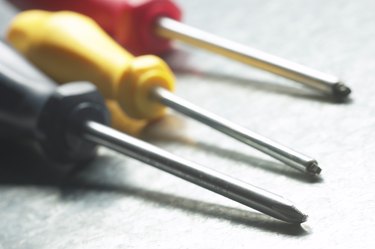 A collection of various sizes of both flathead and Phillips screwdrivers is a necessity throughout a construction project. A selection of screwdrivers is much easier to carry around than a power drill and these tools can be used for driving fasteners into wood, metal or stone. Invest in a nut driver for turning hex-head screws and bolts. And offset screwdriver allows leveraged turning of screws placed in an awkward position.
Measuring Squares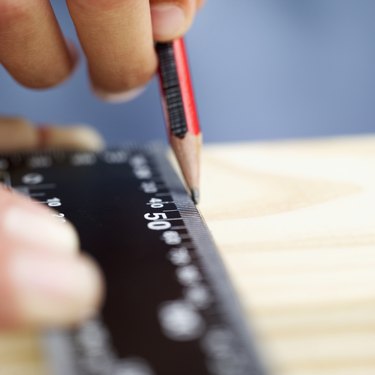 Construction work relies on accurate measurements that can be accomplished with a tool called a square. A carpenter's square lets you get precise measurements of right angles while a combination square with a bevel gauge makes it easy to duplicate any kind of angle for transferring to a board that needs to be cut.
Measuring Tapes and Rulers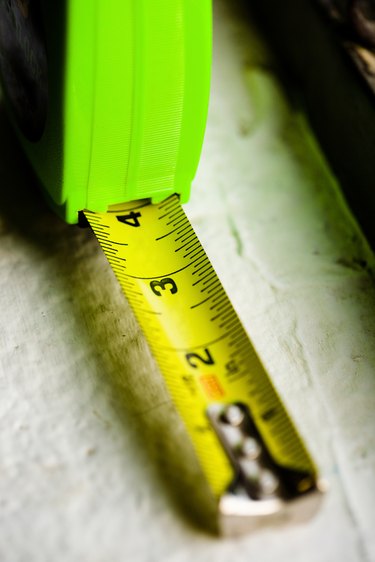 Tapes and rulers are another kind of measuring tool vital for construction work. If you construction work is building a home you can probably get by with just a 12-foot retractable steel tape measure, but go with a 30-foot tape for working on larger projects. Rulers are essentially used for finer carpentry needs.
Saws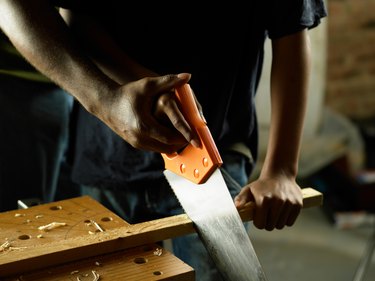 Saws are used for the cutting of lumber to be used in the framing process. Handsaws include the crosscut saw for making cuts across the wood grain and a drywall saw for cutting through plaster, gypsum or wallboard. The various blades that can be attached to a circular saw make this power tool very useful for both fine and rough carpentry work as well as cutting through metal and masonry.
Sanders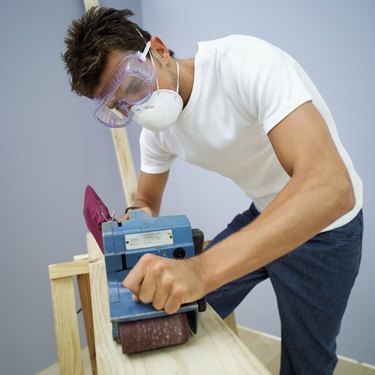 Sanders are essential for finish carpentry work. Getting wood edges smooth provides the professional look that evades some home construction projects. A belt sander has an abrasive belt stretched between two drums that accomplishes its job by turning at a high speed. An orbital sander allows it to be used in a circular motion.
---
Timothy Sexton's more than 10,000 articles have been published on sites ranging from USA Today to CareerAddict, from PopEater to TakeLessons.com. His writing has been referenced in books ranging from "The Reckless Life...of Marlon Brando" to "Brand New China: Advertising, Media and Commercial and from Scarface Nation to Incentive!"