Things You'll Need
Paulownia seeds

Burlap bag

Blower (optional)

Waterproof containers to hold seed

Planting medium

Hardwood mulch

Cheesecloth

Tobacco plant bed net

Tile shovel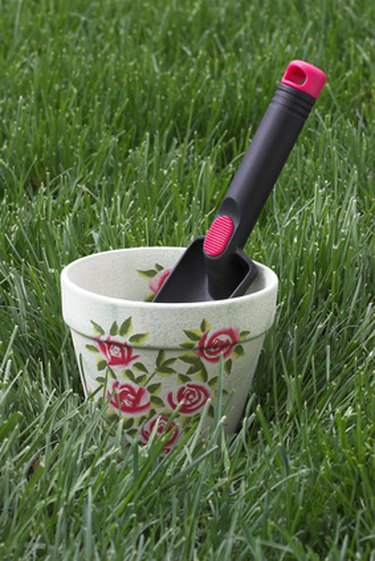 Though it was once considered a weed tree in the United States, the Japanese market for Paulownia tomentosa has made cultivation of this species extremely profitable for U.S. growers. Paulownia can flourish in the United States in an area that stretches from southern Maine to the state of Washington. The seeds are widely available to purchase, though they are also simple to collect from a Paulownia tree. Paulownia trees are becoming increasingly popular with home gardeners because of their beautiful blooms.
Collecting Paulownia Seeds From a Tree
Step 1
Collect the pods from Paulownia trees after they ripen but before they open. They should be mostly brown.
Step 2
Remove the seeds from the pods and put them in burlap bags.
Step 3
Crush the seeds gently in the bag.
Step 4
Separate the seeds from the heavier chaff by hand or with a blower.
Step 5
Place the seeds in sealed containers or stratified between moist layers of a mixture of sand and peat.
Step 6
Put the seeds in cold storage at a temperature of 38 to 40 degrees Fahrenheit for maximum longevity. For best results, however, use seeds during the first or second year.
Germinating Paulownia Seed
Step 1
Fill a biodegradable container with a mixture of sand, vermiculite and peat moss.
Step 2
Put a pinch of seed on top of the planting medium, then cover the seeds with a patch of cheesecloth or tobacco plant bed net to hold them in place.
Step 3
Water the seeds enough to keep them moist but not saturated. As the seeds begin to grow, remove the cheesecloth and thin them until you only have one per container.
Step 4
Wait until the seedlings are 10 to 14 inches tall.
Step 5
Let the seedlings sit in a shady, moderately protected area for 3 to 5 days before planting.
Step 6
Use a tile shovel or backpack auger to make a hole slightly deeper than the container. Insert the seedling and the biodegradable container in the hole and then fill the area around it tightly with the removed soil.
Step 7
Put mulch around each seedling.
Step 8
Water the seedlings regularly.
---
Tammy Dahlvang began writing professionally in 1997. She has contributed "Across the Pastor's Desk" articles to the "Albert Lea Tribune" in Albert Lea, Minn. She graduated Phi Beta Kappa from Northwestern University in 1993, and in 1997 earned a Master of Divinity from Luther Seminary in St. Paul, Minn.