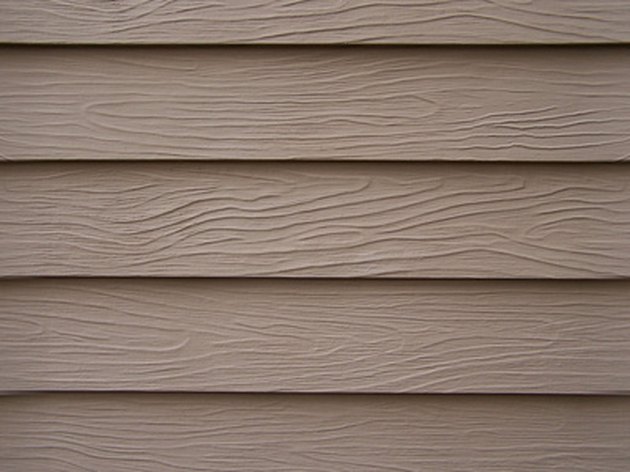 Choosing the right exterior building material for your home can make the difference between a sound investment and a maintenance cost nightmare. Two popular materials for exterior siding are vinyl and Rhino Shield ceramic coating. Vinyl siding is made of plastic sections typically designed to resemble painted wood cladding. Rhino Shield is an exterior wall coating that is applied like paint to an existing exterior surface like wood, brick, concrete or stucco. Though relatively new to the market, Rhino Shield is already demonstrating some benefits over vinyl siding.
Versatility
Though there are many colors of vinyl siding available to consumers, there are a limited number of ways that vinyl siding can be installed or applied to an exterior design. Rhino Shield coatings are applied like paint to a home's existing exterior. The coating resembles freshly coated paint and preserves the details of the home's exterior material. Rhino Shield can be applied over brick, stucco, wood, concrete, aluminum and Masonite to create a protective coating without jeopardizing the original appearance or texture of the material.
Because Rhino Shield behaves like a paint, it can be ordered or purchased in thousands of colors. Consumers can also order a specialty color for optimum customization. Unlike vinyl siding, Rhino Shield is easy to remodel or renovate; simply apply a fresh coat of the ceramic paint in a new color.
Maintenance
Generally speaking, vinyl siding is considered low maintenance compared to siding materials like wood. However, vinyl siding is not impervious to rot or mold due to moisture caught beneath the boards. The space created between the vinyl siding and the base material can house insects like wasps or termites. Vinyl siding must be routinely monitored for water damage and repairs are typically carried out by a professional. Rhino Shield, however, does not present the same maintenance complications. Because Rhino Shield is applied directly to the base material, there is no space to trap moisture or insects, therefore reducing the likelihood of mold or rot. Rhino Shield coatings demonstrate high breathability, so moisture and water are able to evaporate before causing damage. Rhino Shield does not require additional maintenance beyond occasionally cleaning to preserve color.
Cost
Rhino Shield is more expensive than paint and some low quality vinyl siding options. However, homeowners who are thinking of investing in high quality vinyl siding should consider Rhino Shield as a more cost-effective option, especially if an existing home is being remodeled. Both vinyl siding and Rhino Shield must be installed by professionals to ensure the quality of the work. However, Rhino Shield can be applied to an existing exterior with minimal preparation. Vinyl siding typically requires additional time and cost to prepare an existing home's exterior for installation. Rhino Shield has low maintenance and repair costs; a Rhino Shield coating also comes with a transferable lifetime warranty.
Environmental Impact
Vinyl siding is a polyvinyl chloride plastic-based product. Though claims about its carcinogenic effects in humans have been disputed, the manufacturing of vinyl siding contributes to the production and release of harmful environmental chemicals and toxins like dioxin into air and water. Though it can be recycled, most recycling plants only accept new or like-new pieces of vinyl siding; the fumes created from burning vinyl siding are toxic. Conversely, Rhino Shield is a nontoxic, nonflammable material with a low VOC rating. It is an effective insulator and therefore contributes to reduced heating and cooling costs. Its extended lifespan also decreases its environmental impact because it limits production necessities.
---
Hannah Wahlig began writing and editing professionally in 2001. Her experience includes copy for newspapers, journals and magazines, as well as book editing. She is also a certified lactation counselor. She holds a Bachelor of Arts in English from Mount Holyoke College, and Master's degrees in education and community psychology from the University of Massachusetts.