Things You'll Need
Lamp

Phillips screwdriver

Flat screwdriver

Board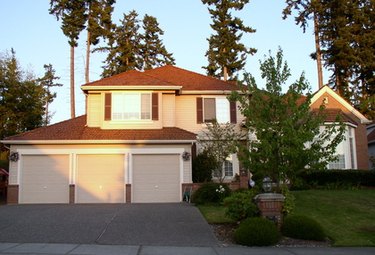 Genie's ProMax is a system for opening and closing garage doors using a remote control or wall-mounted control panel. As with any mechanical and electrical system, problems can occur. Some may be complex or dangerous enough to require the attention of a trained service technician, but others may have simple solutions. It's usually worth troubleshooting the problem yourself before making a potentially expensive service call.
Step 1
Check the lock switch on the wall console. Make sure it's not set to lock.
Step 2
Plug a lamp or other device into the power outlet. If there is no power, check the circuit breaker and reset if required.
Step 3
Check the connections at the power head terminal and wall control. The wires should be firmly held in place by the wire screw connectors. If they are not, tighten the connections with a Phillips screwdriver.
Step 4
Check the staples holding the wires between the power head and wall control are not cutting into the wires. If the wires are cut or damaged, they may need to be replaced.
Step 5
Turn the pinion screw marked close on the power head counterclockwise to adjust the close limit setting if the door is not fully closing.
Step 6
Turn the screw marked open force on the power head slightly clockwise if the door does not fully open.
Step 7
Check to see if the garage door springs are broken. Do not attempt to repair or replace them yourself if they are, as high tension springs can be extremely dangerous. Call a qualified technician.
Step 8
Relocate the remote control inside the car.
Step 9
Change the remote control batteries.
Step 10
Reset the remote control. First, remove the lens cover on the back of the power head. Press and release the learn code button on the power head. The LED on the power head should start to blink. Press and release the remote control button and the LED should stop blinking. Press and release the remote control button again. The LED should go out and the remote control is set.
Step 11
Check the contact reverse. Place a board beneath the door and press the close button. If the door does not reverse on making contact with the board, decrease the close force by turning the screw marked close force on the power head counterclockwise.
Tip
Regular maintenance and checks will help minimize problems.
Warning
Do not access the electronic components unless you are qualified to do so. Do not use the opener if the door is jammed or otherwise impaired.
---
Paul Travers has worked as a freelance journalist since 1990. He has worked primarily for "Kerrang!," the U.K.'s leading rock magazine, but he has also published online content and in print publications worldwide, from "MusikExpress" in Germany to "Smash Hits" in Australia. Travers holds a Bachelor of Arts in journalism and media studies from the University of Central Lancashire.