Things You'll Need
Philips screwdriver

Viking door pins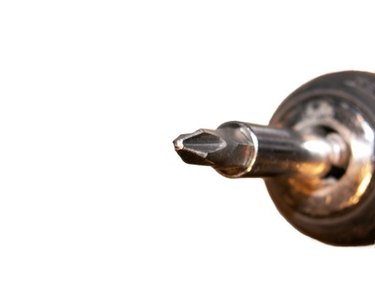 If a Viking oven range is being moved, it may be necessary to remove the oven door. It is also a good idea to remove the door before it is installed to prevent anyone from trying to lift the oven by the door handle, which could break. To remove the oven door on this range, you will need the door pins that came with the range. The pins allow the door to be removed.
Step 1
Open the oven door completely.
Step 2
Insert the door pins that came with the range into the pin holes on each side of the open door, located in the middle of the hinges.
Step 3
Remove the screws on the hinge trim with the Philips screwdriver.
Step 4
Take off the hinge trim on both the right and left sides. Label or identify the hinge trims as left and right for reference when reinstalling the door.
Step 5
Close the door until the door pins stop the door from closing.
Step 6
Lift the door up and out to remove it.
Warning
Do not lift or carry the door by the handle. The handle could break under the weight of the door.
---
David Clair began writing for websites in 2001, creating online marketing content for business owners. He has written for Internet companies including eBay and creates training materials for an online education company. Clair is studying technical writing and pursuing an Associate of Arts in information technology from the University of Phoenix.