Things You'll Need
Towel

Tape measure

Pencil

Power drill

1 1/2-inch Forstner drill bit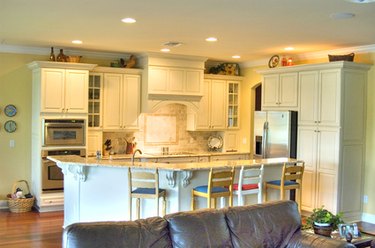 Installing Blum hinges on a cabinet door can be done yourself. Blum provides three different types of concealed cabinet hinges. Installation of each hinge is virtually the same. These hinges are designed to mount to the back of the door. A special drill bit is required to drill the door to allow for Blum hinges. Replace your worn out hinges with new concealed hinges to enhance the look of your cabinets.
Step 1
Lay the door on a flat surface. Place a towel underneath the door to avoid scratching the finish. If the door has an arch top or bottom, orient the door as a left or right hinge. Mark the side of the door that will have the hinges installed.
Step 2
Measure the door for the mounting hole to be drilled. Measure 3 inches from the bottom and top of the door and make small marks using a pencil. Measure 1 3/4 inches from the edge of the door and mark a line on the door using a pencil.
Step 3
Drill a 1 1/2-inch hole at the cross previously made in the back of the door using a Forstner bit and a power drill. Drill into the door 3/8 of an inch. Do not drill completely through the door.
Step 4
Drill a hole in the same manner on the other pencil mark on the door in the same manner.
Step 5
Install the Blum hinges in each hole in the door. Fasten the hinges to the door using the screws provided and a power drill.
Step 6
Hold the door in position on the cabinet with your hands. Fasten the hinge plates to the cabinet face frame using the screws provided and a power drill. There is a stop latch located on the hinge plate. Push the hinge plate until the latch on the hinge plate will not allow the hinge to slide into the cabinet further.
Step 7
Fasten the remaining hinge to the cabinet in the same manner.
---
Living in Utah, Jared Curtis graduated in 2005 with a Bachelor of Science degree from Utah Valley University in Orem, Utah. Curtis is continuing his education in hard sciences to apply to medical school in the future. He began writing professionally in 2010, specializing in cabinet-related articles.