Adding vinegar to wash loads can help reduce wrinkles and soften fabrics as a natural alternative to fabric softeners. If you detect a scent of vinegar in your clothing after using it on your laundry, you can easily counteract this with baking soda. Remove a vinegar smell from tablecloths or clothes by rewashing the items and adding baking soda to neutralize any lingering vinegar smells. Not only will your linens and clothing be bright and clean, but they will smell fresh also.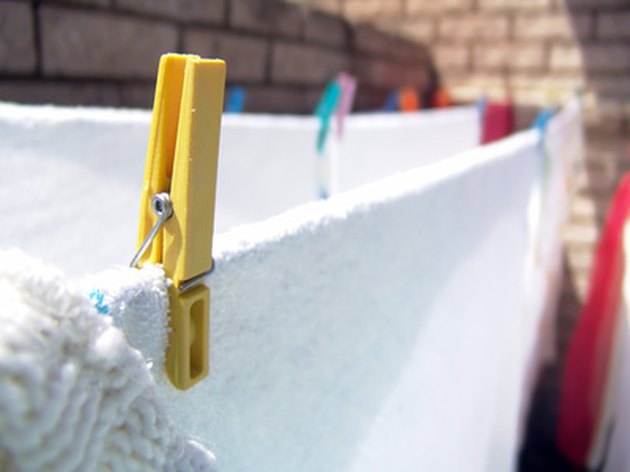 Step 1
Place the items with the vinegar smell into the washing machine. Add the proper amount of laundry detergent and set the water temperature to an appropriate temperature for the items. Use warm water if you do not have specific washing instructions. Start the washing machine.
Step 2
Monitor the wash cycle so you know when it approaches the rinse cycle. When the washing machine enters the final rinse, add 1/2 cup of baking soda to the washing machine. The baking soda will neutralize any remaining vinegar scent, brighten the fabric colors and help freshen the items. Allow the washing machine cycle to finish.
Step 3
Remove the items from the washing machine. If you have access to a clothesline, hang the items outside in the sunlight. The sunlight will also freshen the fabric and remove odors. If you do not have an outdoor clothesline, dry the items in the dryer.