Things You'll Need
Tape measure

Permanent marker

Side mounted electrical box

Small piece of drywall

Two 6-inch self-locking C-grips

No. 2 Phillips tip

Screw gun

3/4-inch No. 6 self-drilling screws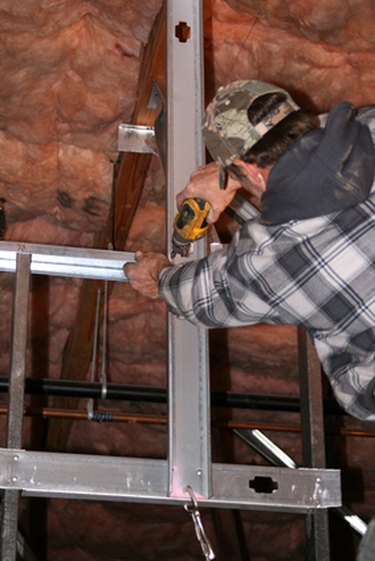 With today's emphasis on building green to save the environment, metal studs are a wise choice as a framing. Metal studs are made from steel, a 100% recyclable material. Using metal studs as a framing material in your home is challenging, especially if you are using standard lumber framing materials. This includes installing the electrical system inside of the metal framed wall. The electrical components may look similar, but electrical components designed for wood installation will not install in a metal framed wall.
Step 1
Measure up on the stud from the floor with the tape measure. Place a mark on the inside face of the metal stud with the permanent marker at the bottom height you need to install the electrical box.
Step 2
Align the bottom of the electrical box on your mark and hold the small piece of drywall against the front face of the stud.
Step 3
Move the electrical box until the front edge of the electrical box is even with the outside face of the small piece of drywall. Make sure the bottom edge of the electrical box is still aligned with your mark.
Step 4
Secure the electrical box to the metal stud by placing one leg of the six-inch self-locking C-grips inside of the electrical box and the other leg on the side of the metal stud opposite the side of the stud with the electrical box. Squeeze the handles of the C-grips together to lock the electrical box in place.
Step 5
Insert the No. 2 Phillips tip into the screw gun and place one 3/4-inch, No. 6 self-drilling screw into each hole stamped in the side-mounting clips of the electrical box.
Step 6
Remove the C-grips from the electrical box to finish installing the electrical box to the metal stud.
---
C.L. Rease , based in Texas, has been a professional construction and outdoor writer since 2003. His articles have appeared in The News-Press, a local Southwest Florida newspaper and a small Southwest Florida fishing magazine. Rease served a four year apprenticeship to become a union sheet metal journeyman and earned a construction management degree from Florida State University.