Things You'll Need
Conair wall-mounted hair dryer

2-part mounting bracket, including steel wall plate and plastic housing unit

Pencil

Drill with drilling (7/32 inch) and driver bits

Screw wall anchors, included with hair dryer

Self-tapping screws (#8), included with hair dryer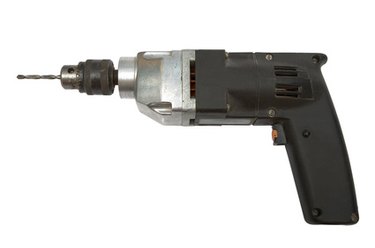 Wall-mounted hair dryers with a retractable cord are a brilliant invention. Your hair dryer is exactly where you need it and you don't have to stow long cords. Luckily, these dryers are not just in hotels anymore. Conair makes a home version that is easily mounted to the wall, using common home repair tools. In only a few minutes, you can securely affix your Conair hair dryer to the wall.
Step 1
Decide where you want to place the hair dryer.
Step 2
Determine the wall composition of the area where you want to mount the hair dryer. These instructions are for dryers mounted on a drywall wall. For modifications in mounting the dryer on other types of walls, see the Tips section.
Step 3
Separate the steel wall plate from the housing unit. According to the Conair 134R Wall Mounted Hair Dryer instruction booklet, this is accomplished by gently prying the housing from the lower snaps, then lifting the housing from the upper snaps.
Step 4
Place the wall plate in the desired position, being careful to place the end marked "Top" in the upmost position. While holding the wall plate in position, use a pencil to mark the screw holes on the wall by putting the pencil tip through each hole. The wall plate serves as a template for positioning the screws.
Step 5
Remove the plate and drill holes where you made the marks.
Step 6
Press the screw wall anchors into the holes you have drilled, so that the holes in the anchors are flush with the wall.
Step 7
Reposition the wall plate so that the screw holes in the plate are positioned over the wall anchors.
Step 8
Securely affix the wall plate to the wall by screwing the self-tapping screws through the wall plate, into the wall anchors.
Step 9
Lift the hair dryer from the housing.
Step 10
Snap the plastic housing unit onto the steel wall plate by first hooking the upper tabs on the wall plate onto the corresponding holes in the top of the housing unit. Press the bottom of the housing unit into the snaps at the bottom of the wall plate. Put the hair dryer back into the mounting bracket.
Tip
To attach the wall plate to a wooden wall, pre-drill with an 1/8-inch bit, then screw right into the wall. No anchors are needed. To mount on a concrete or cinder block wall, you must use concrete drill bits and concrete screw anchors.
Warning
To reduce the risk of electrical shock hazard, position the wall-mounted hair dryer so it cannot fall into a sink or bath tub.
---
Denise Nyland "Denisen" is a long term resident of Panama City, Fla. She studied radiologic sciences and education and has published articles in multiple professional journals and contributed to various educational texts.