Plug-in-the-wall microwave units are standard, but General Electric (GE) over-the-range microwaves are steadily becoming popular. This type of unit allows you to access your oven easily, and it saves counter space in the kitchen. The GE microwave also has a recirculating exhaust system that helps to vent air through the top or back vents. Although this system may seem super high tech, you can install it within an hour.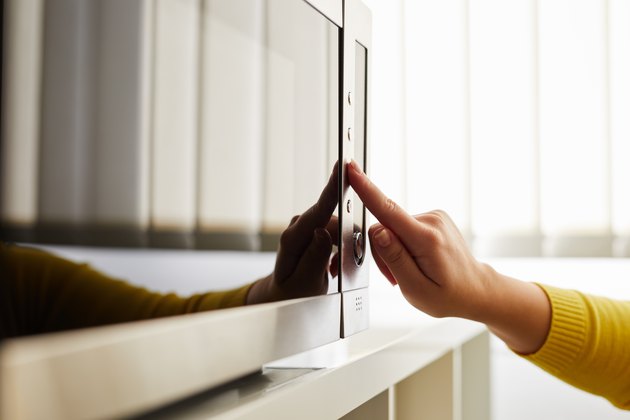 How to Remove the Old Microwave
Before you remove your old microwave, it's essential to turn off the circuit breaker. The circuit breaker is at the main electrical panel, and this powers your microwave oven. Once you turn off the circuit breaker, you can unplug the microwave from your wall outlet. After detaching the screws, pull the microwave oven from the wall. This job can be done alone, but if your appliance is large – or you're a bit clumsy – a second set of hands is ideal. That way when you're pulling the microwave from the wall, you won't damage it. Now, you're ready to install your new microwave.
How to Install the New Microwave
When installing your new microwave, locate the charcoal filter. These filters are necessary because they allow your microwave to have a ductless design. Next, you're going to lift your microwave close to the opening. This is where your microwave will sit. It's essential to have a second set of hands helping you install the microwave. Ask someone to hold the microwave so that you can pull the power cord from the access point. This will make it easier for you to connect the power cord to the outlet if you snake it through during this step.
Secure the Microwave
After your second set of hands does this, push the microwave up to the opening, and make sure that it is sitting on the mounting plate's lower tabs. You also want to make sure that the microwave is sitting directly on the back wall. Be careful not to push the microwave too hard, or the power cord can get caught between the appliance and the wall. Once you secure the microwave to the mounting plate and cabinetry, you can plug the electrical cord into the wall outlet.
At this point, you can turn the circuit breaker back on. Don't forget to test out your microwave to make sure everything was attached correctly. It's imperative to test all of your functions on the microwave as well.
---
Allanah Dykes is a freelance writer and her work has been featured on Elite Daily, Levo League, Popsugar, Complex, Gurl, The Kitchn, HelloGiggles, Revelist, and Food 52.
View Work