Things You'll Need
Respirator mask

Goggles

Protective gloves

Plastic sheet covers

Duct tape

Utility knife

Garbage bags

Household bleach

Water

Bucket

Scrub brush

Replacement linoleum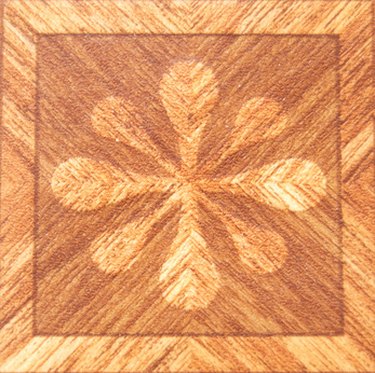 In areas, such as the bathroom, a leak can create mold growth. This often happens when a tub or toilet leaks under linoleum or tile flooring, a perfect environment for mold growth. The good news is mold is not generally difficult to kill however, when it is under flooring, such as linoleum, certain steps must be taken to ensure the mold spores do not spread.
Step 1
Confine the area you must work in, such as the bathroom, by taping plastic sheet covers around the doorway with duct tape. Create a double flap with the plastic sheets for your entrance.
Step 2
Put on a respirator, goggles and protective gloves before removing any portion of the linoleum flooring. Use a utility knife to cut away the part of the linoleum that is affected with mold. Put the linoleum pieces in a garbage bag and seal.
Step 3
Create a mixture of equal parts household bleach and warm water in a bucket. Scrub the area under the linoleum with a scrub brush and the bleach and water mixture to kill the mold. Allow to air dry.
Step 4
Replace affected floor with new linoleum once the area is completely dry.
Tip
Continue to wipe down the rest of the bathroom, including walls and fixtures, with a bleach and water solution for 1-2 days after killing the mold under the linoleum.
Warning
Mold spores spread easily. Keep the room ventilated by opening a window; if possible, for two days to ensure all mold is gone.
Keep the plastic sheet covering up for two days to prevent the mold spores from spreading to the rest of the house.
---
Lisa Wampler began writing professionally in 2005 and has published on various websites. She specializes in content writing and search engine optimization, drawing from previous positions as an account manager and a social media manager for an SEO company.