Things You'll Need
Stripping agent

Old newspaper

Gloves

Mask

Paint brush

Putty knife

Cloth

Sealant

220-grit sand paper

Wood glue

Stain

Lacquer

Varnish

Spray bottle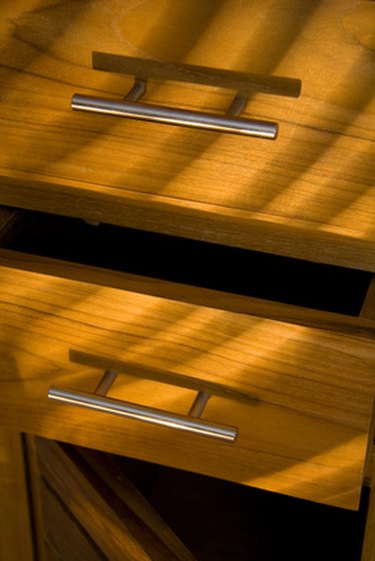 Blond finish was popular on birch or maple wood furniture from the 1950s. These retro pieces of furniture are quite collectible now. Duncan Phyfe is a well-known furniture designer that incorporated the use of blond stains on their wood. People even acquire furniture, either antique or contemporary, to refinish and stain in the "blond" look. Blond wood finish gives a piece of furniture that is in its natural state a richer depth and shine, yet retains a light color that is quite desirable for its elegance and decorative charm.
Step 1
Take a chemical stripping agent and strip the wood furniture. The furniture will have to be stripped in order for it to be finished, unless wood is already in its natural state, and not painted or varnished.
Step 2
Open up all the windows for proper ventilation. Spread old newspapers on the floor, and place furniture on top of the newspaper. Spread newspapers around the furniture if pieces are too big to be transported. Take the pieces of furniture outside, weather permitting. Remove drawers from furniture to make it easier to transport. Carry chairs outside and small tables first. Bigger pieces can be refinished in properly ventilated areas inside if too heavy or large to move.
Step 3
Put on protective gloves, and a chemical fume mask, and apply stripping agent to the surface of the furniture with a paint brush. Paint one small section at a time, and with a putty knife, scrape the top layer of the furniture, removing any old paint or veneer. If the wood is too porous and delicate for a chemical stripping agent, use an electric wood sander. Take a paint brush or a clean cloth and remove any wood dust.
Step 4
Check the surface of the table for any nicks or hairline cracks. Apply sealant or wood glue to any nicks or hairline cracks, and allow to dry. Sand with 220-grit sandpaper to smooth the surface. Make sure to sand the wood delicately at first, and apply more pressure when needed.
Step 5
Finish the wood with a golden oak color finish. Use a golden oak color stain if there is no finish in that color. If the stain does not come out in a blond color, mix yellow, white and umber color stain together. Mix with a clear lacquer in a plastic paint spray bottle, onto the surface of the furniture to achieve the blond finish. Wait for this to dry, and then coat in clear varnish. Use two coats of clear varnish.
---
Linda Stamberger began writing professionally in 1994, as an entertainment reporter for "Good Times Magazine." She has written online copy for The Volusia Community website and is the author of "Antiquing in Florida." Stamberger studied creative writing at Southampton College, where she won a partial writing scholarship.