The best approach to insulating an outdoor shed is nearly identical to insulating exterior walls in your home. Advantages to insulating an out building like a shed include better wintering conditions for plant materials and outdoor equipment prone to damage from freezing and thawing. If you must work in an outdoor shed during the winter, the extra insulation will make the space more comfortable.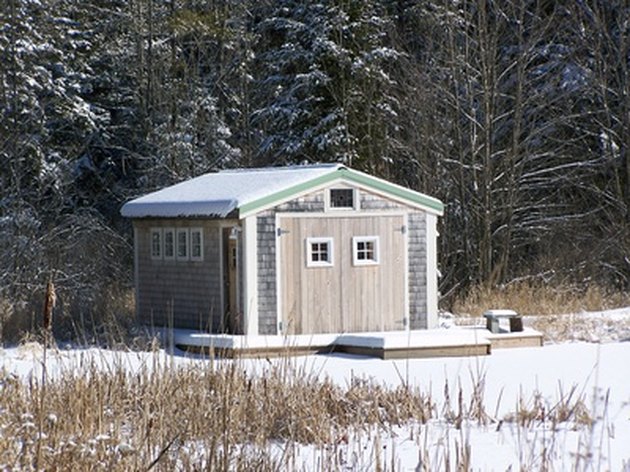 Step 1
Remove drywall or paneling sheets covering the wall studs inside the shed.
Step 2
Measure the height of one channel between two wall studs, from the floor to the crown of the roof, using a measuring tape. Cut a piece of insulation material the same length, using a carpet knife, and tuck it into the cavity between the two wall studs. When extending the insulation up to the crown of the roof, you may want to anchor it with a few strips of duct tape between the two joints.
Step 3
Fill all the cavities between all the studs around the inside of the shed with insulating material. Avoid "breaking" the insulation and "piecing" it together at junctions or corners. Every break in the blanket or foam sheet presents an opportunity for cold air to leak into the shed.
Step 4
Cover all the walls with a plastic moisture barrier. Tack the tarp to the wall studs with a staple gun. Seal any seams or tears in the moisture barrier with an adhesive tape made for this purpose.
Step 5
Install drywall or paneling over the wall studs to "close" the system. Place drywall or paneling all the way to the roof crown.
Step 6
Burn a candle inside the shed, with the door closed. Pass the candle by the walls and look for tell-tale intrusions of air from the outside. Put out the candle and shoot spray-on insulation into any visible crevices.